By The Cruise Web, Inc.
The Cruise Web recently had the opportunity to chat with Nancy Paredes, one of Avalon Waterways' European Cruise Directors. Nancy lives in Budapest but originally comes from the States. She loves her job, especially sharing her love of Europe with those on her cruises.
The Cruise Web: How many river cruises have you been on?
Nancy: I've been doing this for 11 years and I go on between 10 to 12 river cruises a year so 100 plus.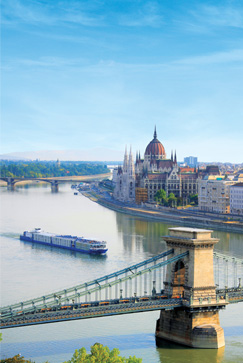 TCW: Do you have a favorite itinerary?
Nancy: The Christmas Markets on the Danube, it really should be experienced by everyone! Many of the American Christmas traditions have come from this part of Europe, and the small towns and the big cities really know how to celebrate the season. Every town has a Christmas market and each is a little different, but all are absolutely wonderful with delightful decorations, food and drinks. Even the biggest Scrooge couldn't help but love Christmas after these experiences.

TCW: Aside from the special Christmas time itineraries, do you have a preferred cruise that is offered more frequently?
Nancy: I love
Avalon's "Blue Danube Discovery" itinerary
. It starts in Budapest and ends in Prague; we travel through five countries. Many Americans know very little about most of the places we visit so when they discover Budapest, this beautiful capital city, they are absolutely delighted with the culture and the scenery. We also pass the capital of the Slovak Republic, Bratislava (formerly part of Czechoslovakia) then we stop at Vienna, the capital of Austria, which is one of the stateliest capital cities in Europe. We then discover the UNESCO world heritage site of the Wachau Valley, which has beautiful scenery, and we visit beautiful towns on the Danube like Passau, Regensburg (which I think has the best sausages in Europe) and Nuremberg. After that we leave the river and head to the capital city of the Czech Republic- Prague, a city that never disappoints.


TCW: So when the ship is docked in a city, what are you doing?
Nancy: We are out exploring the city. I'm usually with the groups. I'm there. I show up everywhere. I'll sit at a café sometimes and watch groups walk by me and everyone has my contact information in case they need me. I'm like the mother to all the cruisers, guiding them and handling any question they might have.

TCW: How should a person prepare for a river cruise?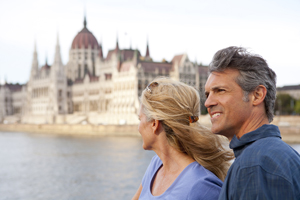 Nancy: It's totally up to each person to decide how much research they want to do before the trip, but we give out information before the cruise and during the cruise. The best thing they can do is come to my port talks. I'm going to give them all these tools. When you see Europe on a river ship it's a taste. Anyone who tells you they've seen all there is to see in Europe is lying. I live in Budapest and I'm still learning new things and seeing new places all the time.

TCW: Do you have any travel tips for cruisers?
Nancy: Yes. When you are packing. If you are taking two checked bags, or if you are going with someone, put half of your things in their suitcase and they should put half of their things in yours. Airlines lose luggage but it's usually only one piece of luggage, never two. This way you have clothes to last you until we can re-route that bag. And always keep any medication you need in your carry-on. I do my best to make sure the passengers on my ships have what they need, but this makes sure they don't have to miss any excursion and have a fabulous vacation.
Oh and tell your credit card companies that you are going to Europe. That's a big one. And carry some of the currency of the country you are flying into.

Avalon Waterways River Cruises offer dozens of itineraries along Europe's waterways. They also have river cruises in Egypt, Asia and The Galapagos Islands. Talk to a consultant today to find out which sailing is perfect for your next vacation.



The Cruise Web, Inc.
reply@cruiseweb.com
1-800-377-9383