By Julie Atkins, Manager of Client Services and Group Administration, The Cruise Web.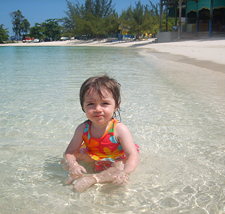 Cruising with young children is such a rewarding experience – one that I encourage all families to take part in. However, most anyone with kids knows that travelling with youngsters presents its own set of challenges. It's for this reason that I'd like to share my tips for travelling with young children. What follows is a collection of handy tips and tricks I've learned along the way.
My daughter's first trip was when she was seven months old and I took her to England and Portugal. Erin wouldn't remember any of it, except she was crawling age and wanted to crawl around the plane! At this age it seems you have every child item, from a stroller to the car seat to the diaper bag full of essentials. I always took an extra pack of diapers above what her normal 24-hour use was. The best items by far were the Similac ready-made bottles, very convenient and great for travel. When traveling by plane it's a great idea to take several toys to keep babies entertained because at this age they are stuck on your lap for the length of the flight. Erin's first trip to the beach was in Portugal, she just crawled around eating the sand! On the way back from England one of our flights was cancelled so I ended up with planes, trains and automobiles with a 1-year-old! It was tough getting around with so many items to carry, but I always found people willing to assist.
Since that trip we have been on several cruises. Erin went to the Eastern Caribbean when she was 1 year old, just barely able to walk. She just loves cruising and being at sea. Most cruise lines do have great children's facilities (sometimes called "kids' clubs"); however they don't allow children under 3 years old. Some do however offer babysitting – you have to book in advance when you get on board and for approximately $12 an hour (cash only) a babysitter will come to your cabin at the time you arrange. We used to put Erin to bed by 9pm and then have a couple of hours of time to enjoy the evening entertainment, which was a nice highlight.
If you need to book a crib for infants/toddlers, all cruise lines use a Pack N Play. The bottom of the Pack N Play has a rather hard surface, so bring something soft (like an egg crate). Otherwise the cruise lines do supply them, and normally you have to fold them over. It's also a good idea to take your own sheet and blankets to fit a Pack N Play. I found the cruise lines' either too thin or too big. Please note that cruise lines don't stock diapers on board and the shops onboard don't sell them so make sure you take plenty of diapers. Some cruise lines do allow you to go online and actually order baby items prior to your cruise and have them delivered straight to your cabin.
When Erin turned 3 she had her first experience in the kids' club – she would call it the "Club House" and wanted to be there all the time. They do really fun things like face painting, painting and colouring and other great projects that kids enjoy. Erin had no problem wanting to participate and leave me behind.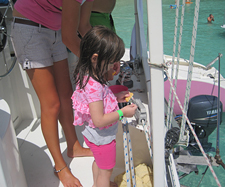 We do always consider the itinerary and since we love beaches the Eastern Caribbean and Bermuda are our favourite. This July, Erin and I went onboard Royal Caribbean's Enchantment of the Seas from our homeport of Baltimore. This reminds me of another great tip: if you have a cruise ship leaving from your home port this is always an added advantage. We traveled to Bermuda where Erin and I got to ride the local buses and hang out at the beach. We also went on a snorkel trip (kids under 4 often don't have to pay for excursions booked through the cruise lines). Although Erin was too young to snorkel, we did enjoy feeding the fish on the boat and swimming in gorgeous shallow waters. I also recommend these really cool life jackets called "puddle jumpers." When Erin was 3 she could wear this and swim around in the sea and the pool on her own and they're very safe. She loved it! I am glad I found them because we would watch other children without them not able to swim without their parents holding on to them. A great buy and I wouldn't go to the beach without it!
Hopefully my tips help reduce the challenge of travelling with young children. I'm always looking for more tips so let me know if you have good ones of your own!
Bon voyage!!

Julie Atkins
Manager of Client Services
and Group Administration
The Cruise Web, Inc.