The Cruise Web's New Office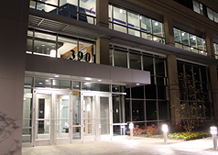 On October 27, 2011, The Cruise Web officially moved to its new office space at 3901 Calverton Boulevard in Calverton, MD. The plan for the new office had been in the works for a while and only became more of a necessity as the company continued to grow. From the moment the first plans were revealed, the company was full of anticipation. And this anticipation was only fueled further with each new detail of the new office.
At long last it was time for the big move. Now, we'd love to say it went off without a hitch, but the truth is that major changes seldom do. Fortunately, The Cruise Web's managers were on top of the situation and had everything running properly in no time.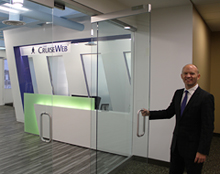 On Friday, October 28th – the first full day of business from the new address – employees were greeted at the door with champagne (ok, fine… sparkling cider) and guided by The Cruise Web's President, Frans Hansen, on a tour of the new space. Most employees were seeing the finished building for the first time and eyes lit up in amazement at the contemporary – nay, futuristic – architecture.
At this point, we could start listing the office's impressive specs – like the building's Green construction to Gold LEED environmental standards, energy-efficient design and state-of-the-art phone systems – but words won't do it justice. Therefore, we recommend checking out our office photo gallery for the best impression.


The Cruise Web, Inc.
reply@cruiseweb.com
1-800-377-9383