The Cruise Web Honored with Top Sales Award from Ensemble Travel Group
This past October, the president of The Cruise Web, Frans Hansen, attended the Ensemble Travel Group's International Conference in Las Vegas, Nevada.  We are proud to announce that during the conference, The Cruise Web received the honor of the top sales award among all U.S. Ensemble members!
Founded in 1968, Ensemble Travel Group is a member-owned international organization of approximately 900 professional travel agencies in the U.S. and Canada. With a membership that represents billions of dollars in travel sales each year, Ensemble Travel Group helps members create extraordinary vacations for their clients traveling domestically as well as around the world.  The Cruise Web is proud to be the number one Ensemble member in the U.S.!
From the left: Libbie Rice, Ensemble Travel Group Co-President; Frans Hansen, The Cruise Web President & Lindsay Pearlman, Ensemble Travel Group Co-President.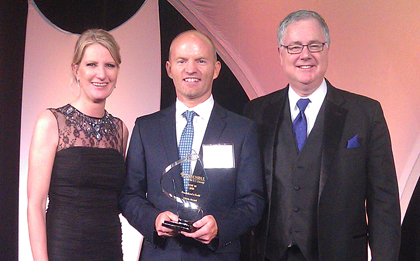 The Cruise Web, Inc.
reply@cruiseweb.com
1-800-377-9383