President's Message – Into the Future
By Frans Hansen, President, The Cruise Web.
When I started this company 17 years ago, introducing the CruiseWeb.com web site just after the launch of the very first Netscape web browser, The Cruise Web was a one person company, setting up our first supplier contacts, and preparing for our very first cruise bookings.  Only about 3% of the North American population had ever cruised at that time, and cruise lines, with their classic ship designs, were just starting to more aggressively reach out to the greater U.S. population.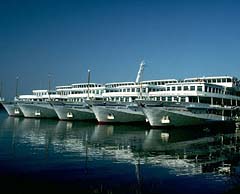 Wow – how times have changed!  The number and variety of cruise ships today is amazing; with sizes ranging from small and intimate to almost city-sized, and with onboard feature, amenity, and benefit innovations that few of us could have even imagined 17 years ago.
As for The Cruise Web, we have grown from one of the smallest cruise retailers in our region, to one of the largest independent cruise sellers in North America over these same 17 years. The Cruise Web did not take any short-cuts to this growth: we did not acquire other agencies or buy up any customer lists.  Instead The Cruise Web's loyal, hard-working, client-facing employees built 100% of this growth by earning the business of new clients one at a time, by exceeding the expectation of existing clients, and gradually building repeat business and referrals year after year.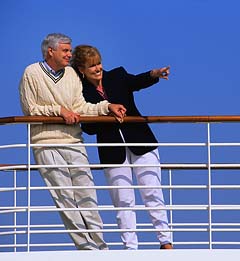 As President of The Cruise Web, I understand that our business is all about you – our customers – and I appreciate and thank each of you for every booking you have made with The Cruise Web!  I also know that the only way to earn your business year after year is to make sure that The Cruise Web team gives you the best service and value every time you call.   And the only way I know to provide you with the best service and value is to recruit, hire, train, and support the best possible team of employees that we can find!
I am just smart enough to know that I am not smart enough to do this alone.  I am also fortunate to have the best and brightest advisors and management team at my side, leading the charge and building on the strength of the entire Cruise Web team year after year.
Looking into the future, my leadership team and I also realize that the human resource needs that existed for a small and mid-sized company become quite different when you want to maintain and strengthen your position as a national leader.  Not only is The Cruise Web competing for the best employees in our industry, but we are seeking to find and keep the strongest employees across all industries in our employment population.
To attract and retain these special individuals, competitive compensation, perks and benefits are just the entry fee.   Strong training, superior continuing support, and a special work environment are the opportunities to get ahead of the game.
With this in mind, and with the pending expiration of our prior office space lease, about 18 months ago my advisors and leadership team inspired me to seek out, design and build a special new office space for our staff.  The vision was for a bright, contemporary, interesting, and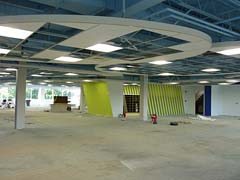 professional yet fun space worthy of a company that sells dreams and fun; a workplace with the latest computer, telephone, and audio/visual technologies to maximize productivity; an office where staff will be motivated to give their best effort every day they walk in the suite doors; a build-out incorporating high ceilings, low dividers, and special architectural accents that all work together with specially selected new furniture to create a harmonious overall design; a space that lifts the mood of employees for every phone call; an environment that inspires professionalism in every task.
Most importantly – the vision was for a beautiful new office headquarters that would energize everyone on The Cruise Web team to provide superior world class service to each and every one of you — our customers — every day!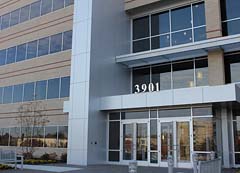 During our search for a new office, I came across a beautiful building located right off the Washington-Baltimore region's Capital Beltway that had just undergone an entire renovation.  The building was completely gutted and refurbished to accommodate larger windows around the entire building perimeter, higher ceilings on each floor, and state of the art mechanical, lighting, operating, and backup energy systems. Best of all, when looking into the future and towards the good of our planet, the entire renovation was done with Green building materials and to Gold LEED (Leadership in Energy and Environmental Design) building standards!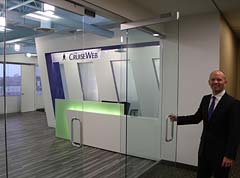 With the better part of a year in market research and comparison shopping behind us, we knew we could not pass up our future in this new building, and The Cruise Web quickly signed up to become one of the first tenants in this newly renovated Green building.
We moved into our new offices one month ago, and have included a few photos in this newsletter.  I am pleased to say that, with the help of one of the region's top architectural design firms, Davis Carter Scott, and a first class owner/builder in Merritt Properties, the new office exceeds all of my hopes and expectations in almost every way!
Perhaps this short story that one of my long-time employees relayed to me sums it up best.  It goes something like this:
As this long-time employee was leaving work one evening last week he walked to his car in our building's parking lot; two 12-year-old boys were riding through the parking lot,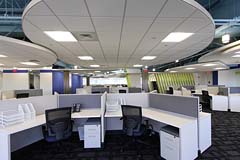 looking up from the dark evening into the brightly lit huge windows of our new office, where staff was still at work.  They could see our high ceilings, special lighting, and interesting architectural design colors and lines throughout the space, and then the first boy exclaimed: "That's a nice office!" The other boy replied: "Yeah, I hope I can work in an office like that one day!"
With this new office, The Cruise Web has put forth our full commitment behind our staff and to our customers for the next ten years and beyond.  We are more committed than ever to providing you with the best value, service and support, every time you contact our company.
I hope that you will enjoy all the exciting innovations and benefits that you can now experience on cruise vacations, and that you will continue to call on The Cruise Web to take advantage of all the best that cruising has to offer into the future!

Frans G. Hansen
President
The Cruise Web, Inc.