By The Cruise Web, Inc.
Err, to be more accurate, The Cruise Web won 313th place in the Mixed Team Relay at last weekend's Baltimore Running Festival – but we're no less proud.
Karolina kicked things off with a gutsy run through Baltimore's challenging Druid Hills. She then handed off to Seth who wound his way back through the city to the halfway point. Desiree took over from there and turned in another fantastic split to set up the relay's final leg. Yossi had the anchor leg and did an excellent job finishing strong and doing the company proud!
All in all, each of the four runners ran impressive splits for a total time of 4 hours, 20 minutes and 22 seconds – a great showing in representing The Cruise Web as the company's first-ever marathon relay team. Congratulations!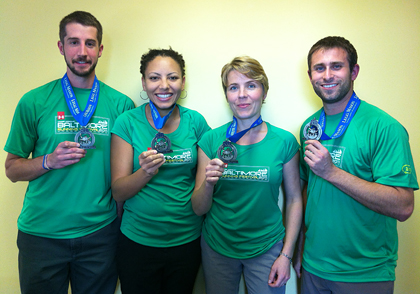 The Cruise Web, Inc.
reply@cruiseweb.com
1-800-377-9383