By The Cruise Web, Inc.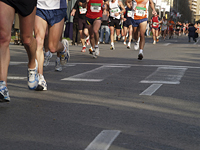 The Cruise Web is excited to announce its participation in the Team Relay at next month's Baltimore Running Festival.  The Team Relay race, which winds through the city of Baltimore on the same course as the full marathon, features four unique legs varying in length from 5.9 to 7.1 miles each. This year's team is captained by Karolina Shenton and includes Desiree Gibson, Yossi May and Seth Woodward – all equally eager to take on the competition when the starting gun goes off at 8am on Saturday, October 15th.
The Cruise Web's 2011 relay team:
Karolina Shenton (Team Captain)
"As a 4 time marathoner I was eager to bring my love of running to The Cruise Web. After I had my daughter, finding time to run was difficult. However, participating in The Cruise Web relay team has allowed me to take first steps towards rekindling my running career. I am looking forward to sharing the energy of this race with my co-workers."

Desiree Gibson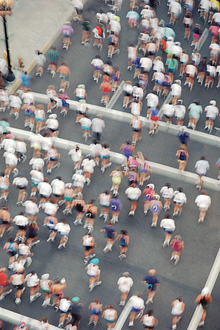 "I've been looking for an excuse for some time to start running again. When Karolina told me about the relay I jumped at the chance.  I am goal oriented and I knew the relay would be a great way to motivate me into getting back in the habit. It's been a few years since I have participated in a race, even then they were 5Ks, so this is going to be a challenge. Either way the important thing is that I've gotten back in the routine of running and feel great! Not to mention, I've lost a few pounds during the training. So…when's the next one?"
Yossi May
"I was a sprinter in middle school and high school and haven't really ran much since then.  Even when I have, it's almost never been more than 3 miles.  The idea of running distances is very foreign to me, so I thought this would be a good challenge to see how well I could do it.  Although I didn't run much in the last few years, I was fairly active until my cruise in March – and haven't exercised much since getting off the ship.  I got the wake-up call that I was horribly out of shape when I went running with a friend a few weeks ago and felt like I was going to die after 1 mile.  I thought training for this
race would be a good way of making sure I exercise frequently, so I can get back in shape and make exercise part of my normal schedule again.  I'm hoping to average a 9 minute mile pace or faster and continue running several times a week after the race is done."
Seth Woodward
"I first attended the Baltimore Running Festival last year to watch my sister run the half-marathon and had a blast – the energy around the course made for a pretty fun day.  It took some convincing, but eventually I figured it was time to move from spectator to participant and the Team Relay seemed like the perfect way to get back into running. While I ran cross country and track in high school, I've had a hard time keeping a consistent running schedule the last few years. Fortunately, this race has given me the perfect opportunity to get back into race shape – no more excuses! Also, like Yossi, I'm targeting a 9 minute mile pace."

Good luck team!



The Cruise Web, Inc.
reply@cruiseweb.com
1-800-377-9383