Feature Port: Halifax, Nova Scotia
Courtesy of Halifax Port Authority.
Halifax, Nova Scotia is known for the friendliness of its locals and its scenic beauty. Steeped in history and culture, Halifax offers a number of historic sites to discover, natural areas to explore, cultural events to revel in, shops to browse, and restaurants to dine. With a population of 390,000, it is an ideal blend of big city and down-home hospitality.
Being the largest city in Atlantic Canada and Nova Scotia's capital, the experiential options are diverse. Explore a myriad of shore-side experiences celebrating the city's unique and cultural heritage and natural beauty. Just minutes from the cruise ship, you can find a variety of stores and restaurants for any appetite.
Explore everything that Halifax and the surrounding region has to offer with close proximity to other famous Nova Scotia destinations including: Peggy's Cove, the Bay of Fundy and Lunenburg. Enjoy some of the freshest seafood you will find anywhere in the world, including our famous Nova Scotia lobster.
Top Experiences
The Citadel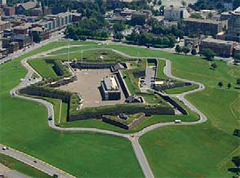 Stars aren't only found in the sky
Standing guard over the city is the Halifax Citadel National Historic Site. Constructed between 1828 and 1856, the Citadel is a living history museum sitting in the middle of Halifax where you'll discover the 78th Highland Regiment still fires the noonday gun (yes, a real cannon!). Guided tours with costumed animators are available for exploring musket galleries, earthen ramparts, garrison cells, guard rooms and more.
The 78th Highlanders
Upon your arrival, you'll be greeted in true Nova Scotian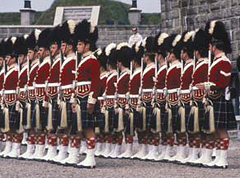 style by our 78th Nova Scotian Highland Regiment. This living history program includes maneuvers by infantry detachments dressed in 19th century uniforms, concerts by the pipes and drums of the 78th playing tunes from the mid-Victorian period, Soldier for a Day and a British schoolroom.
The Public Gardens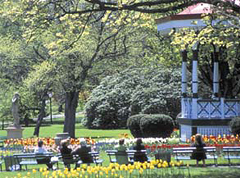 One of the finest original formal Victorian Public Gardens in North America, this beautiful centerpiece of the city welcomes all who enter. Right next door to the wonderful shops of Spring Garden Road, the Public Gardens features 17 acres of rare flowers, sparkling fountains, historic statuary, and free concerts from the picturesque red-roofed gazebo.
Lunenburg – A UNESCO World Heritage Site
Established in 1743, Lunenburg, a UNESCO World Heritage Site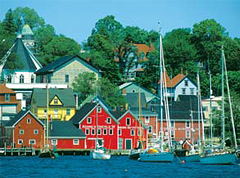 and Canadian National Historic District, offers a wealth of unique architecture such as the "Lunenburg bump." Home to the Bluenose schooner, Lunenburg offers authentic seafood and a working waterfront.

Peggy's Cove
An iconic lighthouse village located on the Atlantic Ocean, Peggy's Cove is one of Nova Scotia's most breathtaking, famous and photographed places. Explore the tiny fishing village and dine on real seafood chowder in their restaurant.


The Cruise Web, Inc.
reply@cruiseweb.com
1-800-377-9383