Bermuda the Beautiful
Last month, The Cruise Web's Manager of Client Services and Group Administration, Julie Atkins, had a chance to take a much deserved break from work and see Bermuda with her daughter. After returning to the office, Julie was nice enough to share about her experience: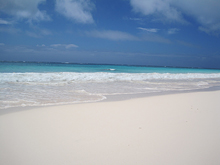 "I came across a great deal on the Enchantment of the Seas sailing roundtrip from Baltimore, MD at the beginning of July. Since it was leaving from Baltimore to Bermuda, I thought it would be a great idea to get away for a short 5 night break with my 3 year old daughter – and since we live in Maryland it had more appeal as we didn't need flights.
Our itinerary was 2 days at sea and 2 days in Bermuda which allows for lots of relaxation. Some cruises I have been on have been all port days and leave me feeling 'busy' the entire duration. Not the case with this cruise. We arrived at the cruise port in Baltimore and check in was a breeze, the process is very organized. Once we were onboard we went to our stateroom and were amazed by the size of the window in our ocean view cabin, it was huge!!
Although Enchantment of the Seas is one of the older ships in Royal Caribbean's fleet, it's very suitable for a trip to Bermuda. You could always find a nice quiet spot on this ship during the days at sea, the food was excellent and I noticed a lot more variety than some ships I have been on, especially in the Windjammer café.
Getting around Bermuda
Bermuda is definitely the highlight of the cruise. I did a 7-night cruise at the end of May on Celebrity Summit, but once is not enough. As it turns out, neither is twice!! Once you arrive in Bermuda you get a sense of relaxation and it really is a very pretty dockyard. The ship docks at Kings Wharf; it's very easy to disembark the ship and take public transportation (a much cheaper option than taxis). There is a store just opposite the ship in the dockyard that sells passes for you to hop on or off buses and ferries. We went to Horseshoe Bay beach for $8.00 roundtrip (my daughter was free). So my advice is to buy the pass and use the buses, we had great fun traveling with the locals!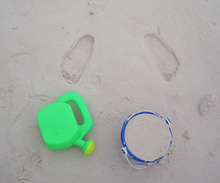 Bermuda's beaches are some of the most picturesque beaches in the world and believe me, I have been to Bora Bora! The pretty pink sand, waves and the rocky backdrops just make picture perfect scenes. A plus for children at the beach is that the sand never gets hot even if it's 90 degrees! Horseshoe Bay is a favourite but can get crowded, it's best to go early and enjoy some quiet time. You can rent beach umbrellas, chairs and they have public facilities here as well as a restaurant. It's quite a walk down from the bus stop to get to the beach, but there is a shuttle bus that charges $2 if you don't have the energy to walk back up!
Another beach worth a mention is Elbow Beach. This beach has the wow factor – it's miles of gorgeous white sand and blue skies, uncrowded and a visual dream. There are no facilities to those on the public beach, but you can use the restaurant at the hotel close by. Just be aware of very high prices – we had 2 cocktails from the bar and the bill was $26.00. There are no umbrellas to rent as I recall so if you have children go early. This is one of my favourite beaches.
There is no shortage of things to do in Bermuda. Golf is very popular and there are lots of interesting excursions to do, especially if you like to visit different parts of the islands. What's nice about cruises that stay overnight is you can see a destination very leisurely and don't have to worry about getting back and missing the ship!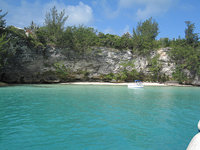 One of the excursions we did was called 'Restless Native Catamaran.' I was initially reluctant to take the trip because Erin is only 3, but I decided to just take a chance and am so glad I did. This excursion was one of my most memorable, the pretty pink catamaran picked us up at the same pier the ship was docked at, so you literally walk of the ship and onto the catamaran! Once onboard there is a lovely cabin inside to relax, great for children and an open platform outside to sunbathe on. This excursion can be booked with the cruiseline and I only paid for myself as children under 4 went free. The scenery is just awesome – we sailed by some very expensive and lavish properties with lots of history and the crew did a great job of narration. Ultimately the catamaran stopped at a small secluded bay where most of the passengers went snorkeling. As for Erin and me, we had a great time collecting shells on the small beach and playing in the shallow waters which were about 2-3 feet deep and so clear you could see your feet through the water. We got to see schools of fish and even a baby squid. Once we were back on board the catamaran we were served fresh baked cookies and lemonade along with the best homemade Rum Punch. Overall a great experience.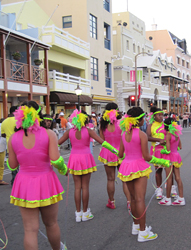 There's plenty to do at night in Bermuda and being docked overnight gives you a real chance to discover the local culture, restaurants and pretty views at the dock yard in the evening. We did visit Hamilton by ferry where there was a local street festival with dancing, food and plenty of activities to entertain the whole family. Ferries can be extremely busy in the evening and lines quite long to get back to the dockyard, so if your cruiseline has an excursion it's best to take advantage of that to avoid having to line up and wait for the entire ferry to fill up.
I have still only seen a small part of what Bermuda has to offer and look forward to going back again sometime."


The Cruise We, Inc.
reply@cruiseweb.com
1-800-377-9383