By The Cruise Web, Inc.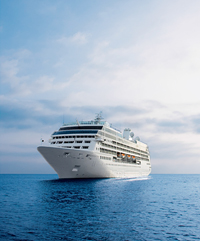 Last month, The Cruise Web's very own Lynda Lynn had the privilege of participating in a Seminar at Sea on board the Azamara Journey on a 7-night "Islands of the Mediterranean" cruise. Seminars at Sea allow consultants to familiarize themselves with different cruise lines through invaluable first-hand experiences. Lynda's cruise was no exception so let's go straight to the source for Lynda's take on her experience:
"I traveled round trip from Civitavecchia visiting the beautiful ports of Bonifacio, Corsica, France – Olbia, Sardinia, Italy – Trapani, Sicily, Italy – Taormina, Sicily, Italy – and Sorrento, Italy (which included a wonderful overnight stop in Sorrento).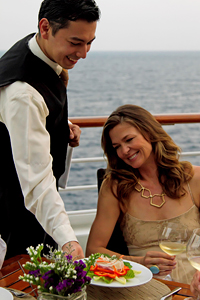 The Journey is beautiful and elegant and from the time I stepped on board I was impressed with not only the ship but also the staff and their professionalism, warmth, genuine personalities and their ability to take care of any request efficiently. With a capacity of 695 passengers, the Journey has an intimate feel and the staff really does get to know your name. The Journey has an unpretentious elegance with beautiful and unique artwork in the public areas. I loved the small size of the ship, how I was able to easily find my new cruising friends when I was walking about the ship and how easy it was to get around on the ship.
The Azamara experience includes many wonderful amenities. I especially enjoyed the selected boutique red and white wines, bottled water that was always well supplied in my stateroom and the delicious specialty coffees at the Mosaic Café. In addition to the café's wonderful coffee, they always had a delectable selection of light hors d'oeuvres, pastries and cookies. I'm thinking about those coconut macaroons right now and how they perfectly complimented my cappuccino.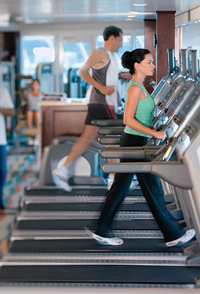 The Journey's restaurants were all wonderful from the main dining room, Discoveries, to Windows Café and buffet, the Pool Grill and the two specialty restaurants, Aqualina and Prime C. I loved going to Windows Café for breakfast after my morning trip to the gym (which was so important since I was surrounded by food!) and sitting outside while enjoying my coffee and breakfast and planning my day's events. I was impressed by not just the choices of food available but also the presentation and quality in all of the restaurants. And the three staples of life, water, coffee and wine, were readily available.
My verandah stateroom was wonderful! Wow, to come back to my room in the evening and sit on the balcony as we were sailing to our next port while listening to the ship gliding through the water and watching the stars go by was incredible.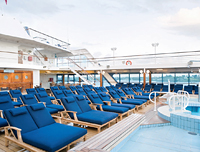 All of the public areas were wonderful including the pool (the lounge chairs with their incredible cushions were great!), spa and gym, the Cabaret Lounge, The Drawing Room (yes, The Drawing Room, AKA the library) and the Looking Glass Lounge. Our cruise director and lead performer, Eric De Gray, was funny and talented and always had funny e-mails from his grandfather to share with us.
The ports were all amazing and Azamara's long port times allowed me to truly enjoy each location without feeling rushed. I think the ports are a topic for another time. I met truly wonderful people on my trip – both fellow passengers and crew – and I hope our paths cross again very soon.
I'm already looking for my next cruise!"



The Cruise We, Inc.
reply@cruiseweb.com
1-800-377-9383