Wedding Bells Ring at The Cruise Web
Memorial Day Weekend is always a favorite holiday as it marks the start of summer and gives many a long weekend away from work. However, this past Memorial Day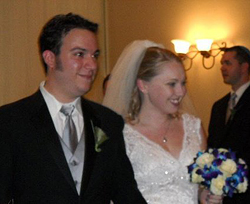 Weekend was even more special for Lauren Wothers Kaplan, The Cruise Web's Benefits Coordinator & Administrative Assistant. On Saturday, May 28, 2011 she was married to her fiance Ben Kaplan. They had a destination wedding in Pembroke Pines, Florida (just outside of Fort Lauderdale). With Lauren working in the cruise industry and having a wedding near a large cruise port, it only made sense for her to embark on a Caribbean cruise for her honeymoon. Well, why don't we just let Lauren tell you herself…
"My new year's resolution was to be able to plan our Florida wedding from Maryland without becoming a "bridezilla." I would like to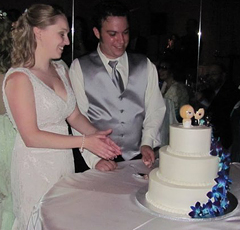 think that I was successful, but at one point or another, weddings can and will make you crazy! Luckily, once it was all said and done, I was able to go on my honeymoon and not worry about a thing. Steve, one of the Cruise Consultants at The Cruise Web, made everything really easy for me – which was especially nice because this was only my second cruise. For our itinerary, we picked Carnival Imagination on a 4-day cruise that went to Key West and Cozumel.
We booked the Grand Suite because, after all, it was our honeymoon! Booking one of Carnival's Grand Suites has amazing VIP perks, like shorter customs lines, a VIP lounge and a shorter debarkation line. We walked into the check in area and were escorted down a very short line through security. We were then directed to a VIP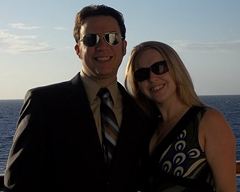 lounge to wait to be checked into the cruise. Everything was so quick and efficient. Once we were done, we walked on the ship and went to check out our room. The room was absolutely amazing! We had a very spacious private balcony with an amazing view. On many occasions we sat watching dolphins and flying fish as we cruised on by. For our dining, we chose "your time dining" which was awesome because there was never any line or wait. It worked perfectly with lunch and dinner in the main dining rooms because it was completely at our convenience.
On Wednesday (day 3) we stopped in Cozumel, which was absolutely beautiful. I'd never seen water so blue in my life! We stopped at Carlos'n Charlie's for lunch and had a delicious margarita that was half the size of me! We decided to walk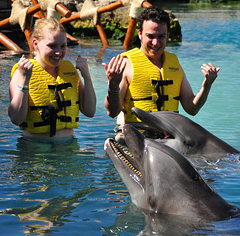 around and discovered Dolphinaris along the way. Dolphinaris offers one-on-one interaction with the dolphins for 40 minutes. We got there around 3pm so everyone was leaving and we ended up having a private session with the dolphins. We got to swim with the dolphins, and took a ton of pictures with them. It was the most amazing experience ever!
On Thursday, we were out at sea all day so we went from photographer to photographer taking silly pictures and playing mini golf. Out of four games, I didn't win one time, which is unfortunate because we are very competitive with mini golf. Overall, we had a wonderful experience on our honeymoon and would recommend all of our adventures to fellow cruisers.
Happy Cruising!"
Wow, it sure looks like Lauren and Ben had a great time! The Cruise Web would like to extend congratulations to the happy couple – we wish you all the best!


The Cruise Web, Inc.
reply@cruiseweb.com
1-800-377-9383