By The Cruise Web, Inc.
At the end of May, a few lucky Cruise Web employees received an opportunity to hang out with Ray Lewis, linebacker for the Baltimore Ravens, during the "Ray's Summer Days" fundraiser hosted by The Ray Lewis Foundation. Our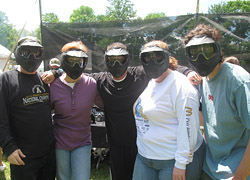 invitations, which came by way of Kathy Donnelly, District Sales Manager for Carnival Cruise Lines, included passes to both the Celebrity Bowling Tournament and Celebrity Paintball Tournament and BBQ.
The first night featured the Carnival Cruise Lines Celebrity Bowling Tournament. The Cruise Web was represented by Senior Cruise Consultants John Herrera and Andy Gustafson, who had this to say about the bowling event: "I was honored to be chosen to attend Ray Lewis' charity bowling event sponsored by Carnival Cruise Lines. As fellow Cruise Web-er John Herrera and I tied our cool rented bowling shoes, we were introduced to our celebrity teammate for the night. It was none other than one of the 50 Greatest Bowlers of all time, Danny Wiseman. Yes, our teammate has won over $1.4 million in his career. I was on a bowling team in high school, but this guy did not seem to be playing the same game. Every ball hit the pocket perfectly.
In the second of the two games we rolled, he took a perfect game into the 9th frame, where he unfortunately ended up with a split. Even with that frame open, he struck out to finish with a 265. An amazing game–I had truly watched a master at work. Later, when we were goofing around, I had a 7-10 split. He grabbed 2 balls, arranged them on one hand, and released them in one motion. One hit the target and the other just barely missed. Although Ray Lewis was the superstar, I will always remember sharing the lane with one of the very best to ever roll a ball."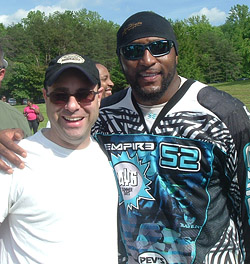 The next day, four of The Cruise Web's Consultants – Adam Wolf, Jen Crivelli, Lynda Lynn, and Jacques Botty – traveled to Reisterstown, Maryland to Ray Lewis' home for the PEV Celebrity Paintball Tournament and BBQ. Jen Crivelli shares their experience with us below: "The afternoon kicked off with the burgers and hotdogs under a tent in his front yard, as teams prepared for the paintball tournament. Each team played several rounds in the hopes of qualifying for the final playoff round. Our team, "Carnival Blue," did not qualify for the playoffs, but had the honor of taking on The Ray Lewis Foundation Team, including Ray Lewis, in our last round of the day."
Thank you to Andy and Jen for sharing their experience with us and a special thanks to both The Ray Lewis Foundation and Carnival Cruise Lines for allowing The Cruise Web to be a part of Ray's Summer Days.



The Cruise Web, Inc.
reply@cruiseweb.com
1-800-377-9383