Music Aficionados to Enjoy Performances During Cunard's Transatlantic Season
Courtesy of Cunard Line.
In addition to the compelling series of Cunard Insights speakers and other activities aboard a luxury cruise vacation on Queen Mary 2, the ship's 2011 Transatlantic Crossings season will feature a robust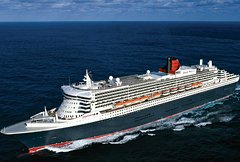 line-up of some of the world's most sought-after music performances. Aboard Cunard Line's flagship, guests will have the rare opportunity to intimately experience the world-class talents of virtuoso violinist Elizabeth Pitcairn, musicians from New York's famed Juilliard School, and London's in-demand National Symphony Orchestra under Conductor Anthony Inglis.
"At Cunard Line, we pride ourselves on providing glamorous experiences to our guests, whether it is through our formal nights or extensive entertainment options," said Peter Shanks, president of Cunard Line. "The caliber of these accomplished musicians will certainly heighten the grand sense of occasion that our guests enjoy whilst sailing on a Cunard voyage."
Elizabeth Pitcairn
Having set sail on 17 May from New York, celebrated American virtuoso violinist Elizabeth Pitcairn will perform in partnership with one of the world's most legendary instruments, the Red Mendelssohn Stradivarius of 1720, said to have inspired the Academy Award(r)-winning film "The Red Violin." Ms. Pitcairn appears in the 10th anniversary Meridian Collection edition of the film in a special feature documentary interview.
Influenced by the musical and comedic genius of legendary Hollywood stars Judy Garland, Jackie Gleason and Victor Borge, as well as the beauty and talent of concert violinists David Oistrakh and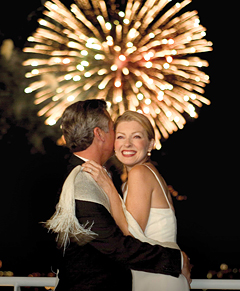 Jascha Heifetz, Pitcairn has created her own signature style of performance. During the summer of 2011, she will become the first successive executive director of the Luzerne Music Center and Chamber Music Festival in New York in more than 30 years. An alumna of the intensive summer camp in upstate New York, she was chosen by the founders to carry on the tradition of building young artists and audiences of the future. She is an alumna and former adjunct professor at the University of Southern California Thornton School of Music, and is currently on the faculty of the Colburn School of Performing Arts in Los Angeles.
Prior to Tuesday's embarkation, Queen Mary 2's Entertainment Director Paul O'Loughlin presented Pitcairn and Luzerne board member Michael Conway with a donation from Cunard of $7,500 to support the school's summer camp performing arts programme for instrumentalists, composers and conductors, ages 10-18.
Juilliard School Jazz Ensemble
As part of Cunard Line's ongoing partnership with the renowned Juilliard School, jazz musicians from the famed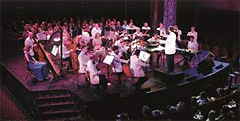 performing arts institution will return for a second year to demonstrate their extraordinary talents on an even greater number of Crossings. With performances scheduled in the Chart Room and the Royal Court Theatre, guests will also have the opportunity to attend fascinating Q&A sessions with the musicians. They will sail aboard these select Transatlantic Crossings: 17 May, 10 June, 20 July, 15 August, 22 August, 5 September, 23 October, 10 November and 12 December.
The National Symphony Orchestra with Conductor Anthony Inglis
Following their spectacular Transatlantic Crossings in 2009 and 2010, the National Symphony Orchestra (NSO) will perform on the 7 October Eastbound Transatlantic Crossing. Once again, guests will be invited to sing with the NSO on the stage of the Royal Court Theatre.
Additionally, guests will have the opportunity to attend rehearsals with NSO Conductor Anthony Inglis, and prepare for Cunard's Last Night of the Proms to be staged at the end of the Crossing. A Grammy(r)-nominated conductor, Inglis has been featured more times at London's Royal Albert Hall than anyone else in the iconic venue's history. He leads a prolific international career, appearing with some of the greatest orchestras in concert halls from Australia to Scotland.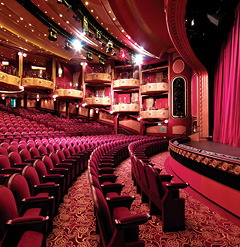 The NSO is one of the busiest freelance orchestras in the United Kingdom, working with Katherine Jenkins, Russell Watson and many other popular classical artists. Members of the NSO can be heard on many major film soundtracks, and among the luminaries with whom they have appeared include Reba McEntire and Sir Cliff Richard, who was backed by the ladies of the NSO string section at the Royal Albert Hall.
Queen Mary 2's Transatlantic Crossings reflect the pinnacle of civility and refinement in ocean travel. The only company offering regularly scheduled Transatlantic liner service, Cunard is sailing 21 classic Transatlantic voyages between New York and Southampton, with extended Crossings between New York and Hamburg. In addition, "Grand" voyage options are available, roundtrip from New York, combining classic European itineraries with a Transatlantic Crossing on either side.


The Cruise Web, Inc.
reply@cruiseweb.com
1-800-377-9383