Cruise Web Manager Experiences the Brand New Seabourn Quest with Mom
Karolina Shenton, The Cruise Web's Manager of Marketing and Sales Operations, recently returned from an inaugural celebration aboard the brand new Seabourn Quest. Fortunately, we were able to steal enough of Karolina's time to have her tell us about her inaugural experience, first-hand: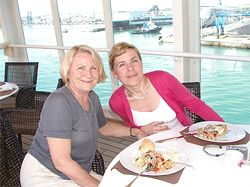 "I recently had the opportunity to experience Seabourn's newest ship the Quest, on her inaugural voyage from Rome (Civitavecchia) to Monte Carlo. What made this voyage even more exciting was that my mom flew in from Poland to join me!
There we were, mother and daughter aboard one of the most beautiful and well appointed ships at sea. When I first boarded, I was taken by the red carpet and champagne welcome we received by the amazing staff. Not only were we told where to find our suite; a staff member personally escorted us there. In all my cruising, that is the first time I've had a personal escort to my suite.
Our suite was absolutely wonderful! Fresh fruit, therapeutic bath menu (your suite stewardess can draw a warm, scented bath for you upon request) and a refrigerator stocked to our preferences greeted us as we entered our home for the next several days. I've been on many ships and all were beautiful in their own way, but this was truly exquisite.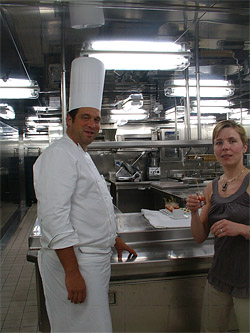 The entire ship has an open bar policy, and the restaurant menu was designed by two-time James Beard Award winner, Chef Charlie Palmer. After spending time on the Quest, I don't think my favorite restaurants at home will ever be the same. If I had to use one word to describe the dining on board, it would have to be "divine" with a superb presentation. Oh, the memory of herb crusted halibut with white and green asparagus with pommes mousseline and citrus beurre blanc, still makes my mouth water.
The ship wasn't crowded with a maximum guest capacity of only 450 travelers. One of the more unique features was the "Seabourn Square," a central lounge where all shipboard services can be accessed in a relaxed and unrushed manner. The lounge quickly became a place of meeting for the many people we befriended while aboard.
The Quest also features a unique marina that allows guests to enjoy water sports right from the ship itself!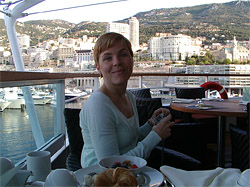 However, despite all these wonderful amenities, the little things are really what make the difference. My favorite detail of all are the "massage moments" while on deck, where you can lay by the pool, relaxing to wonderful music and your favorite drink, and have a complimentary massage right there in the sea breezes.
The Seabourn Quest has redefined my perception of what a cruise ship can be. I fell in love with Seabourn over and over again while aboard. Most of all, I love that I was able to share this wonderful experience with my mom. Can you imagine the stories she's telling her friends in Poland?"


The Cruise We, Inc.
reply@cruiseweb.com
1-800-377-9383