My Courtyard Villa Experience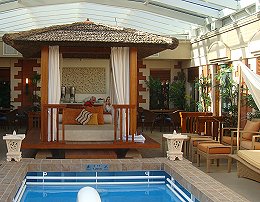 In December of 2008, I went to the Bahamas on the Norwegian Gem and got to stay in one of their Courtyard Villas. We were picked up by limousine early that morning in DC and started heading to New York. When we arrived at the port, we announced that we had a Courtyard Villa. Upon hearing that, the special treatment began. They quickly checked us in and asked us to wait in a private lounge with refreshments, which was nice since we had been driving all morning.
Upon boarding, we were greeted with champagne and mimosas. We kept moving as we were so excited to explore the ship and see our villa, which was located on the 14th deck. The elevator even had a special slot that wouldn't let you push the button to your floor unless you inserted the platinum (VIP) room key.
The Courtyard was absolutely gorgeous. There was a warm natural water pool (no chlorine to irritate the skin!) in the center and a Turkish steam bath and traditional sauna at the far end. It resembled a greenhouse with plants and an earthy décor. Besides the courtyard, there was a private sun deck where you could lounge on oversized cushioned deck furniture. On top of that, the deck and courtyard attendant brought us anything we needed.
The suite itself was amazing: Balcony, spacious living room with a couch, kitchenette, two bedrooms, spa bathroom, and all the closet space you could want. You really have to see it to believe it.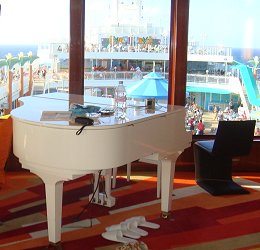 Our personal butler introduced himself and told us about the amenities in the room. These included a DVD library and DVD player, an espresso machine, complimentary bottles of champagne, wine or liquor, and a portable phone we could take anywhere on ship. He also gave us his card with a direct phone number for him in case we needed any room service. He even offered to have our suitcases unpacked!
Our concierge catered to just about any request. Have you ever wanted to get into a specialty dining restaurant even though it's booked up? Well the concierge will get you in, doing the legwork you'd normally do yourself. She told us that Cagney's was reserved exclusively for VIP passengers every morning for breakfast — and their menu was to die for! We ate breakfast and had our coffee brewed fresh in a French press right at our table every morning.
The level of service you get for being in a suite is like night and day compared to being in a regular class cabin. Once you tell an NCL representative that you have a villa, everything changes. Doors open for you and special requests are granted. You receive priority embarkation and disembarkation, priority tickets for the tenders that take you to shore, VIP entrances to different parts of the ship, and VIP seating at the shows. The treatment you get from your concierge, butler, and other staff members is simply above and beyond.
Last December we went to Hawaii on board Norwegian's Pride of America in the Owner's Suite. It had a spacious living room area, a kitchenette, a desk with a laptop, a giant bathroom with a bubble bath and shower stall, a walk-in closet, and a bedroom with sliding doors and a king sized bed. The balcony was huge and even had a jacuzzi so we could watch the sunset while soaking in hot water.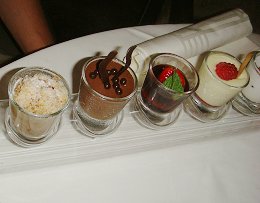 Once again, the service was phenomenal. One day I ripped the sleeve of one of my favorite dresses and our room attendant went through the trouble of sewing it back up herself. It's those little details that are so important.
Some of our fondest memories on the Gem and the Pride of America were having our butler deliver the specialty dining menus to us and ordering directly from the restaurants. They would lay a white tablecloth and set our own private table. It was such a simple joy to eat by candlelight in each others' company without any distractions, right from the comfort of our own room.
There is something really great about having your own villa area and private deck — being on a large contemporary ship, yet still being able to experience luxury cruising.


The Cruise Web, Inc.
reply@cruiseweb.com
1-800-377-9383