Specialty Dining at Sea
By: The Cruise Web, Inc.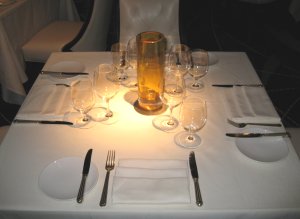 There are lots of attractions on a cruise, but one of the best can be the dining experience. Whenever I cruise I try and sample one or more of the specialty restaurants on the ship. This gives you a change of pace in the decor and cuisine as well as service. Especially if you want to celebrate a birthday, anniversary or some other milestone, the specialty restaurant makes a good choice. I am frankly not a "foodie," a food snob, or for that matter much of a cook. I love diner burgers and fries as well as the next guy. But evenings I've spent at specialty restaurants have given me more of an appreciation for the artistry and subtlety of fine cuisine.
Although you may pay a bit extra (about $15 – $30 per passenger) for the experience, you often can get a six-star dining evening at a fraction of the cost you would pay to do so on land. Although there is always plenty to eat, the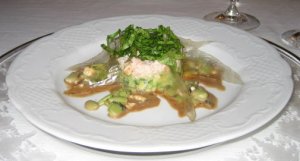 emphasis is on the quality of the cuisine. The presentation and unobtrusive yet consistent service contribute to a memorable dinner as you leisurely linger through each course. I always enjoy the palate cleansers mid-meal that typically are part of the experience. This comes from the French custom, to remove lingering flavors from the mouth so your next course can be enjoyed with a fresh perspective. It also serves as a digestive–to avoid heartburn or indigestion, plus to stimulate the appetite. It might be sorbet, a neutral food, or a light beverage.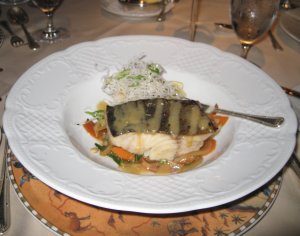 Norwegian Cruise Line pioneered the specialty restaurant concept and features Cagney's Steak Houses for surf & turf, Le Bistro for French cuisine, and a Japanese Teppanyaki Grill with an in-your-face stir fry. Royal Caribbean has Chops Grille steakhouses and Portofino's Italian restaurants on her ships. Carnival offers Supper Club, a Manhattan-style steakhouse on most of her ships. With Princess you can choose from Sabatini's Trattoria (with its neighborhood Italian feel) or Bayou Cafe & Steakhouse. The latter is the first New Orleans French Quarter-themed restaurant at sea, where you can enjoy Cajun and Creole fare with live jazz. Finally, Holland America's Pinnacle Grill won Porthole magazine's Best Alternative Restaurant this past year.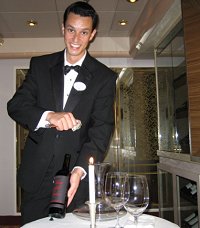 My favorite specialty restaurant would have to be Norwegian's Le Bistro. I have tried her out on both the Jewel and Gem in past years. And I look forward to doing the same on the Norwegian Epic when she debuts later this year. The decor and artwork are Art Nouveau and the buttery French gourmet fare would warm Julia Child's heart. I had never tried Frog Legs (served here in Watercress Velouté with Garlic Fricassee) before Le Bistro but I've been sold on them ever since. Also memorable were the Escargots Bourguignonne (Burgundy, i.e. red wine) as well as the Mussels or Moules Marinière (marinière means "mariner's style," shellfish prepared with white wine).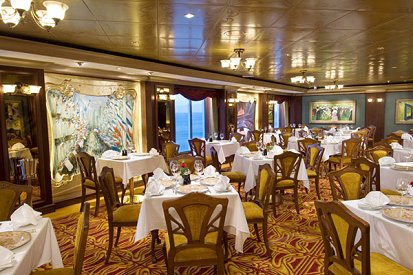 The cruise line's best and most experienced staff are often assigned to these specialty restaurants. The wait staff who have served me have been charming, entertaining, funny…and they add to the ambiance. If you're worried about expanding your waistline, remember that the gym is likely just a few steps away. Regardless, I heartily encourage you to try specialty restaurants on your next voyage!


The Cruise Web, Inc.
reply@cruiseweb.com
1-800-377-9383