My First Luxury Cruise Experience: Part 2
By Brandon Biss, Senior Cruise Consultant, The Cruise Web.
My First Luxury Experience: Part 1
Onboard Ambiance: The Peace of Mind of All-Inclusiveness
Many myths exist in the luxury cruising world: very formal, stuffy, snobby, only the high-society of life books on them, etc. This is not the case. Dress aboard Silversea

vessels is very similar to most cruise lines. Attire ranges from country club casual to formal depending on the night. I noticed that the average age of the guests was younger than my recent cruises on the larger lines. Many were very friendly, well educated, and very well traveled. I found that most people were intrigued and interested in my "story" as opposed to "snubbing" me because I was younger. I received a guest manifest at disembarkation and noticed that only half were from North America. This resulted in a diverse and enriching guest interaction experience.
The benefit of an all-inclusive, luxury cruise experience isn't in the cost. You will never drink enough alcohol, eat enough lobster, or save enough on gratuities to make up the price-difference over a contemporary cruise line. The benefit is in the mindset. I can't remember a decision I had to make besides which entrée or drink to order. There were no costs for a lobster or steak upgrade. If you consume wine, the pairings were included and an important addition to the meal. I indulge in a fine meal once or twice per month. Aboard the Silver Cloud, it was a nightly occurrence.

There was one tough decision I had to make daily, "Do I feel like taking a nap?" I kid, but it is true. With no assigned dining times, I was not obligated to anyone's schedule but my own. Full in-suite dining allowed me to have breakfast on the verandah each morning and the full dinner menu, course-by-course in the evening. I was not stressed once over running late to a meal, which happens often on other cruise lines. All-inclusiveness and the open schedule foster a peace of mind that only comes on a luxury cruise.
Hotel Services: Guest vs. Passenger
When I landed in Stockholm, I was missing a bag. After searching for about 15 minutes, I spoke with an airport representative who traced the bag. It was sent to Oslo! The rep said it would be on a flight landing at 3:30pm, but she couldn't guarantee that it would arrive by our 6pm cruise departure. Even with my travel experience, a little panic set in. Combined with my jet lag, I was feeling impatient and annoyed. Then I remembered, we have travel insurance to protect my belongings. Also, those belongings were my formal clothes. Deep down I knew I had a great excused not to dress up for the formal nights!!! All kidding aside, I found my transfer and headed to the pier.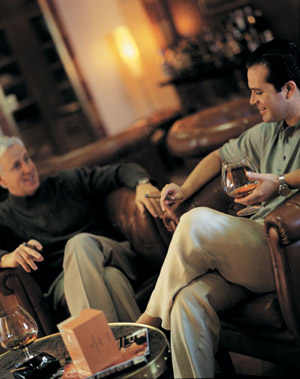 Upon arrival, I was greeted by the welcoming staff and the concierge, Cinzia Calabrese. I shared my story about the luggage. Cinzia took all the information for the bag and said, "Check in and have a drink. I'll find you at 5:30pm and update you on the status." In my head I'm thinking, "You'll find me…how do you know where I will be!?" I trusted her and checked in. With champagne in hand they checked my passport, took my photo, and 15 minutes later I was escorted to my suite where another bottle of champagne waited.
The suite was amazing! It was very spacious and appointed with high-quality linens. It felt like a small studio as opposed to a hotel room. I'm 6'3" so I particularly enjoyed the full sized bathtub as opposed to the tiny showers on other lines.
As 5:30pm approached, I was at the bar sharing a drink and stories with a couple I met. I honestly had not thought about the lost bag until Cinzia walked in. "Mr. Biss, sorry to interrupt. Your bag is waiting for you in your suite. Enjoy your evening." Wow! If not for Silversea and Cinzia, the bag would have been stranded.
This story is a microcosm of the entire hotel staff. They anticipated your needs without being overbearing. Excellent service was paramount and genuine. It became obvious that I was a guest, not just another passenger.
Food and Dining: A Culinary Experience
Living in Washington, DC, I have many opportunities for unique and finer dining. I am not a "foodie," but like most people I enjoy diverse and creative food options prepared with a high quality. The food quality, diversity, and venues aboard the Silver Cloud lived up to the hype. However, the dining experience was all about the people, their presentation, and service.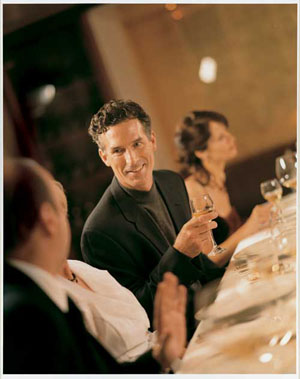 Most evenings I would have a pre-dinner drink at the bar. Carlito, my bartender, was very engaging. He always asked about my day and my life at home. While he served drinks quickly and accurately, his playful personality made all the difference. One evening before dinner, I met another couple at the bar. Engaged in a great conversation, I was just about finished with my drink. Without breaking up our conversation, Carlito topped the glass with the wine I was enjoying. After I noticed the refill, I turned around to thank him, and he was already helping another guest at the other end of the bar. This isn't the type of event that will make or break a cruise experience. However, I appreciated how Carlito did not have to interrupt me (because all beverages are included in the cost) and how he anticipated my needs. Carlito became a staple of our experience, not because I was drinking all the time, but because he facilitated great conversations with the guests that I met.
Almario and Richard, servers in the Restaurant, played an equally integral role in the experience. Their great chemistry and personality shined each evening. They did a wonderful job explaining the menu when I did not recognize a dish and made great recommendations. One evening I asked Richard about the design and function of a fish knife I was using. Extremely knowledgeable, he knew the answer. Another evening, I asked about a dish that was not on the menu that I sampled in a restaurant. The next evening, Almario asked me to hold off on my entrée order. My entrée that evening was the dish that I had asked about the night before!
A question from Richard sums up the entire dining experience, "Was your meal fantastic?" Normally, if I were asked how I felt about a dinner, the best I would answer is "Very good," or "Great." Richard didn't ask, "How was your meal?" He asked if it was fantastic. You know what…it most certainly was. Every breakfast, lunch, and dinner was fantastic, as well as exceptional and excellent. Richard's expectation became mine. Silversea exceeded it with every meal.
Entertainment and Other Services: Enrichment, Not Just Entertainment
I enjoy wine. Quite honestly, I don't know much about it. This cruise included wine tasting and lectures with Gary Eberle, founder of Eberle Winery in Paso Robles, CA. The technical process of wine-making was completely over my head. However, Gary brought the conversation

back to the basics like purchasing a bottle of wine, selecting wine glasses, how to store wine, etc. Most importantly, I learned that finding a wine to enjoy is just like finding a restaurant to enjoy; you try them out until you find one that you like! Wine tasting can be intimidating in a room with wine connoisseurs when you are inexperienced. Gary and the Silversea staff related to my novice level and made the tasting an experience that I can apply at home.
I find most port lectures on cruise ships uninspiring. Many are very basic and are given by a cruise line staff member. The information provided is easily found in guidebook from a local bookstore. While this works for the novice traveler, it is dull to one whom is experienced. Most guests that travel with Silversea are very well traveled. The port lectures aboard the Silver Cloud are intended for that demographic. The cruise line employed lecturers with advanced degrees in their fields to discuss Russian history, art, architecture, and purchasing Amber. Not only were the discussions informative, but I felt inspired into touring the ports in a different way than I intended.
Itinerary: Access and Saving time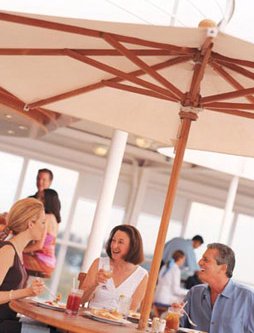 I did not put much effort planning tours except for St. Petersburg. I researched each port, but St. Petersburg was the highlight for me. Helsinki, Gdansk, and Tallinn were toured independently. Silversea makes it easy for the independent type of traveler. In most ports of call, the Silver Cloud docked in the city centre. If not it was only a 10-15 walk. When docked in ports of call that are not within walking distance, Silversea provides a complimentary shuttle that runs on the half-hour. I visited the tour desk for suggestions. They were very knowledgeable and provided complimentary maps. Currency can be exchanged right at the purser's desk. The rates were actually better than my bank, American Express, or any exchange service in the airport offered. Most merchants take credit cards unless you are dealing with a street vendor. I recommend taking very little cash, unless you are opposed to using a credit card.
I underrated Helsinki. It turned out to be very nice. The ship disembarks right next to the centre of town by a large outdoor market. The main sites are in close walking distance. There are also great opportunities nearby for boating activities. I walked about the city, taking in the people and shopping. The people were very friendly, and all spoke English.
Tallinn and Gdansk are very similar. Both are very quant and charming medieval towns. I walked and shopped in these towns as well. The main square in Tallinn is a great place to have a drink / lunch and watch the people. If you're a fan of Amber, you will be in heaven!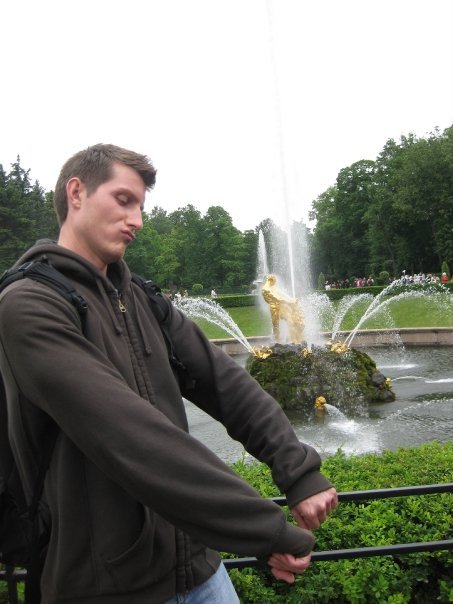 St. Petersburg is the feature of this cruise and the reason why many people will select this itinerary. It is quite an interesting place. If you enjoy history, art, architecture, and grandeur, this is the place for you. Besides the palaces and museums, I found it bland and the people hard. I saw few smiles. It seems that the people of St. Petersburg are still coping with all the tragedy, hardship, and change of the past 100 years. To be fair, the dynamics of cultural differences could just be in play. When many Americans will smile and maybe say hello to a stranger, this is not the custom in Russia. It's not that the people are mean-spirited, they are just not overly-friendly.
Because of visa requirements, you may not just tour around like most other ports. You must have your own visa, book with the cruise line excursions, or organize your own private guides. St. Petersburg also seems to be a "wheeling and dealing" kind of town. There are lines for all the major sites, and the length of your wait seems to be determined by "whom you know." The luxury lines will dock right downtown by St. Isaacs cathedral. This makes touring very convenient if you have your own visa. The larger lines will dock at the commercial port about 20 minutes from town. This makes ship or private touring more necessary.
I had three full days to tour. Below is the itinerary:
Day One, Saturday
1130 start of the tour
1130-1200 drive to "Pushkinskaya" metro station
1200-1230 metro ride to "Vladimirskaya" metro stations
1235-1300 Kuznetchny Food Market visit
1300-1400 drive along Nevsky to the Hermitage (with possible lunch en route)
1400-1600 inside visit to the Hermitage (a guided tour of the best collections)
1630 back to the ship
Day Two, Sunday
0830 start of the tour
0830-0945 drive 30 km south of St Petersburg to the imperial summer residence – the Catherine Palace at Pushkin
1000-1050 a guided tour of the Palace (with Amber Room)
1100-1145 walk through a marvelous park near the Palace
1150-1300 drive to the city
1300-1415 Lunch time
1430-1515 inside visit to Peter-and-Paul Fortress
1530-1700 – local shopping district for walking and shopping for clothes / souvenirs
1730 – back to ship
Day Three, Monday
0830 start of the tour
0830-0930 drive South-West of St Petersburg to visit one of summer residences of Russian Tsars in Peterhof – the Russian Versailles
0930-1030 a guided tour round the Grand Palace of Peterhof
1040-1140 walk round the world famous fountain park to enjoy Fountains playing
1200-1230 Hydrofoil back to the city
1240-1330 Lunch time
1400-1500 visit to the Spilled Blood Cathedral with shopping at the famous open-air souvenir market
1515-1600 inside visit to the famous St Isaac's cathedral
1630 back to ship
This tour was customized by a private tour company in St. Petersburg that was recommended by a client of mine. I had a private car with driver and guide. I selected this option over the ship tours because I concerned over long lines for entrance to the sites. For the cost, it was a good value. My guide was very knowledgeable, the driver always on-time for pick-ups, and I hardly ever waited in a line. I saw many of the ship tours where guests had an earpiece. They had to listen to their guide though a microphone. We covered much more ground.
While I thoroughly enjoyed and appreciated the experience, I would make some adjustments. With three days of touring, I felt that less would have been more. I found that much touring exhausting and somewhat repetitive. While I love history, I felt like I had entire semester of Russian History in 3

days. Feelings of being "over it" manifested by day two. Unless you are an extreme history/architecture buff, this amount of touring can be very intense. I would have been better off with one full day, two half days, and the ballet one evening. If planned again, I would have booked the private touring, but would have also purchased my own visa so I could self explore. I highly recommend Peterhof, the Hermitage, and a ballet. It is also important to visit one or two of the churches.
I heard from many people that Stockholm is a wonderful city. Along with the experience on the cruise ship, Stockholm was the other gem of the vacation. Stockholm is situated on an archipelago, connected by bridges and boats. It is very cosmopolitan, offering world class shopping, restaurants, and nightlife. However, it has not compromised its' old city charm with amazing history and architecture. The city has many lush parks and gardens. It is one of the cleanest and eco-friendly cities we have visited. The people are very friendly and all speak English. I found goods and dining to be quite expensive comparative to the other ports of call. However, it was no different than Washington, DC, New York, or any other major city around the world. I will visit again!
Overall Impressions – My Taste for Luxury
I believe that cruising is one of the best values in travel. My thoughts on Silversea are by no means an indictment on the rest of the cruise industry. From Carnival to Silversea and every line in between, there is a great experience for every type of individual. However, I do think Silversea and luxury cruising is the most appropriate for my tastes.
Of the experiences above, none on their own would make or break a cruise. While these things are wonderful, I could live without them. Each is a small glimpse into the luxury world of cruising. Taken as a whole, it creates an experience that is now important to me when considering my vacation options. The all-inclusive nature of the voyage made decision-making easy. Logistically, the small ship provided access to ports that larger ships cannot reach and allowed me to maximize the time in each. Most of all, it was my most relaxing experience. It is difficult for me to live in the moment and enjoy my vacations for what they are, my vacation. I normally evaluate and make mental notes along the way of good traits and areas of opportunity on a given cruise. Aboard the Silver Cloud, I was able to relax, forget about work, and enjoy my vacation. It was truly a complete escape!

Brandon Biss
Senior Sales Consultant
The Cruise Web, Inc.
Phone – 240-487-0155 EXT 292
Toll Free – 800-377-9383 EXT 292
Email – brandonb@cruiseweb.com