The Cruise Web's Consultant steers the ship with Captain Galatto
By Adam Wolf, Cruise Consultant, The Cruise Web.
Adam Wolf, who has been with The Cruise Web for over 4 years, recently met Captain Alessandro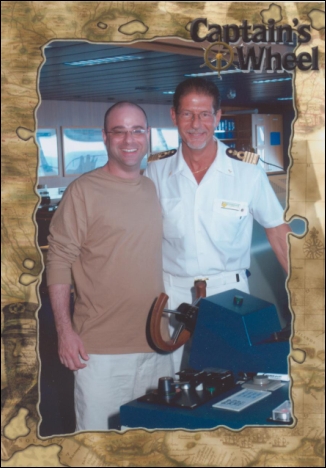 Galatto on the Carnival Pride. Adam was invited to participate in a "Behind The Fun" VIP travel agent tour of the ship during the inaugural Carnival Pride sailing from Baltimore, Maryland.  During this 2 hour tour on the last sea day of a 6 night cruise to the Bahamas, he visited many secured areas around the ship not seen by passengers including the engine room, main galley, photo lab, crew and staff quarters, theatre, and even toured the bridge  to meet the captain while the ship was sailing.  Carnival Cruise Lines is now offering a limited number of passengers with this "Behind the Fun" tour, which is only available on the Carnival Valor and Carnival Imagination.
Carnival has 19 close-to-home ports including year-round departures from Baltimore. With so many ports close to metropolitan areas, cruise vacations are incredibly easy…fewer customers need to hop on a plane and a family of four can sail away to far-away ports.  With  Carnival's convenient ports, more people have a departure point right in their neighborhood.  So they'll spend their money on vacation, not getting to vacation.  If Adam can be of additional service in helping you or family/friends save a lot of time and money planning a cruise vacation either in 2009 or 2010, please feel free to contact him at anytime.

Adam Wolf
Cruise and Cruisetour Consultant
The Cruise Web, Inc.
Toll Free: (800) 377-9383 Ext. 274
Email: adamw@cruiseweb.com