Your kids might feel like they're too cool for school, but here are 10 cruise ship experiences they'll never stop raving about! From laser tag and 3D movie theaters, to surfing simulators and aqua parks, these cruise ship experiences will guarantee a photo album full of unforgettable family vacation memories.
Without further ado, make like every kid on summer vacation, put off those summer assignments and continue below to check out The Cruise Web's top family cruise experiences:
Splashaway Bay Aqua Park (Royal Caribbean)
Families won't have themselves a better or wetter time than at Royal Caribbean's Splashaway Bay aqua parks, featuring waterslides, water cannons, fountains, pools and the infamous drench bucket! With plenty to occupy everyone from toddlers to teens, Splashaway Bay is one of the most family-friendly aqua parks at sea. Note: Splashaway Bay requires a minimum height of 42"-45" for select waterslides.*
Royal Caribbean ships featuring Splashaway Bay: Adventure of the Seas, Harmony of the Seas, Liberty of the Seas, Majesty of the Seas, Ovation of the Seas & Symphony of the Seas
LEGO Experience On Board (MSC Cruises)
MSC Cruises is the only cruise line to offer the LEGO Experience On Board, featuring LEGO-themed play areas where activities include LEGO building competitions, LEGO video games and more! Plus, each ship with the LEGO Experience features one entire day during every cruise dedicated to family-friendly LEGO activities and entertainment. At the end of this day, children can even earn Junior LEGO Master Builder diplomas!
MSC Cruises ships featuring the Lego Experience: MSC Armonia, MSC Bellissima, MSC Grandiosa, MSC Lirica, MSC Meraviglia, MSC Opera, MSC Seaside, MSC Seaview & MSC Sinfonia (and eventually fleetwide)
Royal Caribbean International will be implementing an enhanced 'Child Water Safety Program' fleetwide between now and June 15, 2017, beginning with Oasis of the Seas.
Right from embarkation, parents and kids will receive a 5-minute water safety presentation during the Adventure Ocean open house session. Youth staff and cruise directors will go over all water safety rules at the Evacuation Plan safety drill on the first evening, Teens 411 info session, daily messaging and Kids Compass. Most importantly, licensed lifeguards clearly marked in a red and white uniform will be stationed at every pool, including the Solarium pools.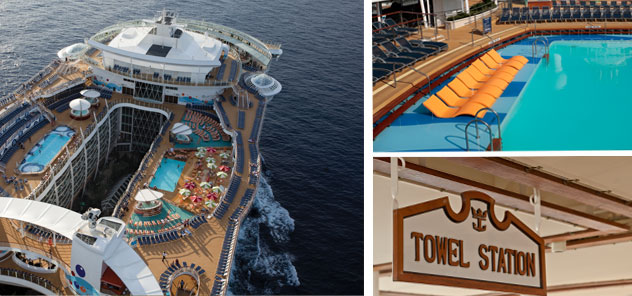 Complimentary swim vests will be available in three different sizes for children between the ages of 4 and 12, together with instructions on how to properly fit the life vests. Multiple towel stations will also be accessible for convenience. Plus, in order to transcend language barriers, Royal Caribbean is re-vamping pool rules signage, stateroom signage and digital signage to provide visual cues to guests from different nationalities.
Please note: Adult supervision is required at all times for children under 12, and lifeguards will not provide babysitting services at any point in time.
To book your next family-friendly vacation with Royal Caribbean, give us a call today on 1-800-377-9383.


The Cruise Web, Inc.
reply@cruiseweb.com
1-800-377-9383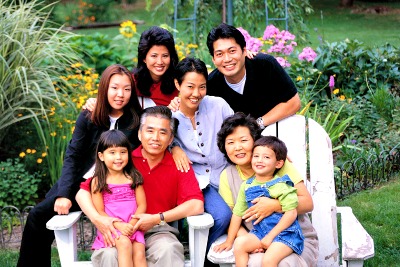 While it's not always the case, families often have their special traditions, traits or interests. You might come from a family where cooking is what brings everyone together and everyone from grandma to the grandkids loves rolling up their sleeves and rolling out some dough. Or your family may be full of athletes, from dad sharing his stories of high school glory on the football field to the rows of awards on your children's shelves for their athletic skills.
No matter what interests your family, it's nice to foster those talents and interests on a vacation. So why not plan to take a cruise that takes the family's interests and introduces you to new possibilities?
Continue below as we've considered eight different kinds of families and found cruises that would be great fits for each. These cruises can work for families of all sizes, from just two people up to big groups that include uncles, aunts and cousins. The beauty of the cruise is the variety of options, so take a look and let us know which of these would work for your family! [Read more →]
By Karolina Shenton, Manager of Marketing and Sales Operations, The Cruise Web, Inc.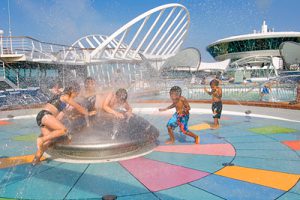 Summer is coming and the kids will soon be out of school. It's time to plan that epic vacation for your family; the one you've always dreamed of doing. You're excited as you daydream of all the possibilities. But then something mysterious happens. You start to remember all those impossibly long family road trips and hotel stays when you were a kid. If you have a sibling, you recall hours of back seat bickering with your brother or sister and staring out the window watching the world go by, asking "are we there yet?" All of a sudden, you're motivation starts to wither away. No matter how much of a super-parent you consider yourself, the challenges of family travel are enough to dissuade the most super of parents. There is, however, a better way: family cruises.
Courtesy of Norwegian Cruise Line.
To better meet the needs of the growing family vacation market, Norwegian Cruise Line announced that it is revitalizing its current youth program and will implement a new best in class program fleet wide. The re-branded program will be introduced on Norwegian Gem in mid-February and will be rolled out to all of the line's Freestyle Cruising® ships subsequently.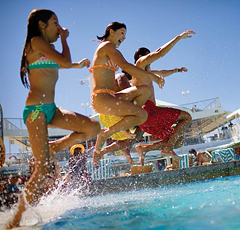 "More and more families are choosing a cruise for their vacation since it represents such a good value and offers so much for the entire family. In fact, close to 150,000 children sailed on our ships in 2010 and that number continues to rise," said Kevin Sheehan, Norwegian Cruise Line's chief executive officer. "We've already taken family programming to the next level by offering Nickelodeon experiences on some ships. Now, we want to make sure that we are continuing to offer the best possible experience for families. To do this, we are investing millions of dollars in revamping our youth and family programming." [Read more →]
Courtesy of Norwegian Cruise Line.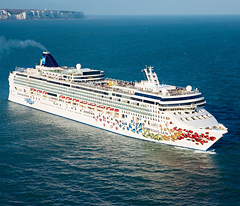 Norwegian Cruise Line and Nickelodeon today announced the expansion of their exclusive partnership, extending the popular family entertainment and programming from two to three ships with the addition of Norwegian Gem, beginning in February 2012. Nickelodeon-themed family events, shows and activities were first introduced in April 2010 on Norwegian Jewel and in July 2010 on Norwegian Epic. [Read more →]
Last month, The Cruise Web's Manager of Client Services and Group Administration, Julie Atkins, had a chance to take a much deserved break from work and see Bermuda with her daughter. After returning to the office, Julie was nice enough to share about her experience: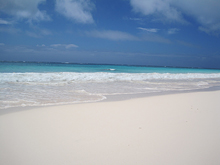 "I came across a great deal on the Enchantment of the Seas sailing roundtrip from Baltimore, MD at the beginning of July. Since it was leaving from Baltimore to Bermuda, I thought it would be a great idea to get away for a short 5 night break with my 3 year old daughter – and since we live in Maryland it had more appeal as we didn't need flights. [Read more →]
Courtesy of Carnival Cruise Lines.
Camp Carnival Night Owls – featuring fun-filled children's parties offering a full schedule of late-night activities and premium giveaways, along with nightly babysitting services – is being rolled out on all 23 Carnival Cruise Lines ships.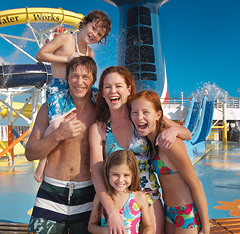 Perfect for when parents want some much-needed "me" time, Night Owls further bolsters Carnival's distinction as the leader in family cruising, with complimentary children's programs for three age groups catering to the 670,000 children who sail with the line annually. [Read more →]
Courtesy of  Carnival Cruise Lines.
In a nod to maritime tradition, Miami Children's Museum and Carnival Cruise Lines recently uncorked a confetti-filled bottle to launch a redesigned cruise ship–shaped exhibit where kids can sail on a sea of discovery and learn the secrets behind one of South Florida's leading industries.
The two-level 1,850-square-foot exhibit – the country's only cruise-themed children's museum attraction – has been completely renovated and now offers a host of new hands-on, interactive activities that promise oceans of fun while educating kids about seagoing travel and maritime careers.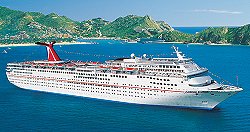 New features on the exhibit's first level include Puppet Ship Theater, where kids can learn about different maritime careers while putting on a puppet show with a cast of miniature captains, engineers, chefs and other shipboard personnel.  Young visitors also have their moment in the spotlight dressing up and performing as Carnival entertainers with dazzling, sequin-festooned costumes. [Read more →]
By Rashell O'Neal, Cruise Consultant, The Cruise Web.
Are you an active person? Are you fanatic about adventure? As most people know, when you cruise you can visit multiple destinations, countries, continents and cultures. But for the adventurous, or merely intrigued, you can also participate in many of the sports and physical activities that each destination offers. Below is a brief snapshot of some of the activities you can try when you are cruising. Hopefully this will motivate you to try something new… [Read more →]