2017 is fast approaching, and with it comes a host of new cruise ships! From large, family-friendly contemporary ships to smaller luxury vessels, 2017 will introduce something new for every type of cruise traveler. Continue below to learn more about the new cruise ships debuting in 2017:
Viking Sky & Viking Sun (Viking Ocean Cruises)
Maiden Voyages: February 25, 2017 for Viking Sky; November 17, 2017 for Viking Sun
Passenger Capacity: 930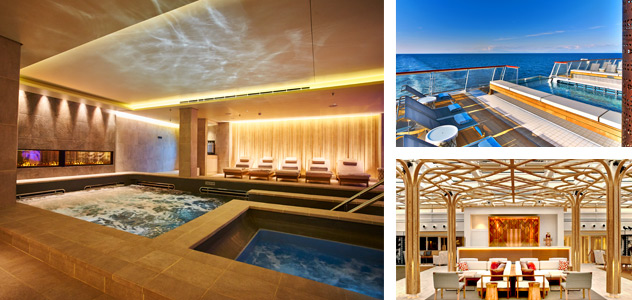 Viking Oceans will debut two new ships in 2017, Viking Sky and Viking Sun, both sister ships to the already sailing Viking Star and Viking Sea. Each of these luxurious new ships embodies the heart of Viking Cruises' philosophy of providing personalized and immersive small-ship travel experiences.
Every stateroom features a private balcony to take in the sights and sounds of each unique destination. And while guests are free to keep to themselves and enjoy their own personal sanctuary, we encourage passengers to explore the ship and experience the elegant public spaces, including the Explorers' Lounge, Sun Deck and Theater.
Key Features:
The Spa: Reinvigorate your mind, body and soul at Viking Ocean's Nordic-inspired onboard spa. The Spa features a snow grotto where snow actually falls from the ceiling, a soothing sauna, thalassotherapy pool, hot tub, plunge pool and heated ceramic lounge chairs.
Infinity Pool: Enjoy incredible views from the ledge of the onboard infinity pool, or retreat indoors to cool off in the shade with an icy beverage.
Wintergarden: Relax in the airy Wintergarden with the perfect cup of tea while partaking in engaging conversation with fellow travelers.
When the Viking Sky debuts in February 2017, she'll be sailing a variety of European itineraries. The Viking Sun will debut in November 2017 out of Miami, Florida. Both the Viking Sky and Viking Sun are now available to book; contact one of our experienced consultants at 1-800-377-9383 to experience Viking Oceans' newest ships.
---



Majestic Princess (Princess Cruises)
Maiden Voyage: April 4, 2017
Passenger Capacity: 3,560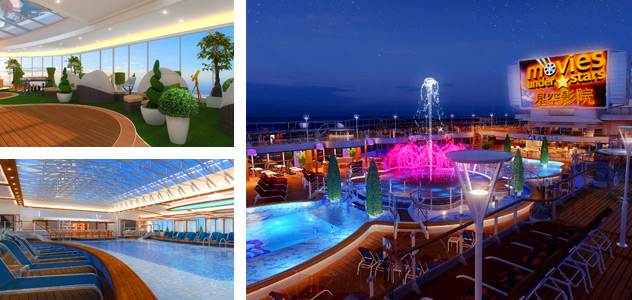 Majestic Princess will debut April 2017 with a welcome combination of new features and guest favorites, such as the SeaWalk, Movies Under the Stars and Princess Theater. An expanded duty-free shopping area will please anyone looking for a deal, while the relaxing Lotus Spa offers a soothing treatment to remedy any ailment.
If it's entertainment that you seek, then the Majestic Princess is ready to deliver. With the dazzling WaterColor Fantasy sound and light show, six private karaoke suites, Hollywood Pool Club, casino, state-of-the-art theater and Center Court fitness area, there will never be a dull moment at sea!
Key Features:
The Hollywood Conservatory: Relax in this new indoor garden lounge area, premiering exclusively aboard the Majestic Princess. Enjoy live music as you play chess with life-sized pieces, share your wishes on the Wishing Wall, participate in tai chi classes or just unwind in the lush garden environment.
SeaWalk: Step out over the ocean on the unique SeaWalk glass-floored walkway, which extends nearly 30 feet out over the side of the ship. Do you have the nerves to look straight down at the blue ocean 128 feet below?
Movies Under the Stars: Sometimes nothing beats relaxing with your loved ones while enjoying a great movie – especially when that movie is watched under a star-filled sky in the presence of a huge screen.
Majestic Princess debuts in the Mediterranean in April 2017 for a wonderful season of European cruising, and then sails east to Asia. The Majestic Princess is now available to book; contact one of our expert consultants at 1-800-377-9383 to sail aboard Princess Cruises' newest ship.
---


Silver Muse (Silversea Cruises)
Maiden Voyage: April 10, 2017
Passenger Capacity: 596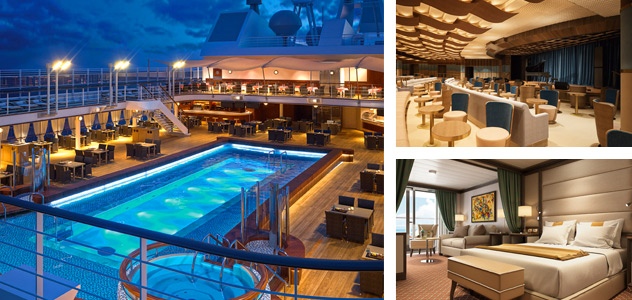 Silversea's latest luxury jewel, Silver Muse, is an elegantly wrapped state-of-the-art wonder. Everything about Silver Muse's design is intentional, from the fine art to the carefully selected itineraries full of unique ports of call. Silversea pays special attention to the onboard dining with nearly ten mouthwatering venues, including the tapas of the intimate Silver Note, the outdoors Regina Margherita and the lava stone cooking experience of Hot Rocks, just to name a few.
When guests aren't dining in one of the world-class restaurants, they'll have a variety of lounges and sophisticated venues for onboard enjoyment. Discover true peace and quiet in the Observation Lounge, dance the night away in the Panorama Lounge or let the spa staff massage away your cares in the Spa by Silversea.
Key Features:
Dolce Vita: Designed as the heart of the Silver Muse, Dolce Vita will draw you in with warm conversation, live music and perfectly mixed cocktails. Reflect on the day's experiences or dream about what tomorrow has in store aboard the Silver Muse.
L'Opera Theater: Enjoy musical productions and feature films in the cabaret-inspired L'Opera theater and lounge. Perfectly intimate shows for a refreshingly intimate ship!
Pool Deck & Jacuzzi Area: Soak in one of the onboard whirlpools or take a refreshing dip in the pool. Feel your worries float away as the onboard staff tends to your every need.
Silver Muse debuts in the Mediterranean in April 2017 with a variety of unique voyages. The Silver Muse is now available to book; contact one of our luxury cruise consultants at 1-800-377-9383 to sail aboard Silversea's newest luxury marvel.
---


MSC Meraviglia (MSC Cruises)
Maiden Voyage: June 9, 2017
Passenger Capacity: 4,500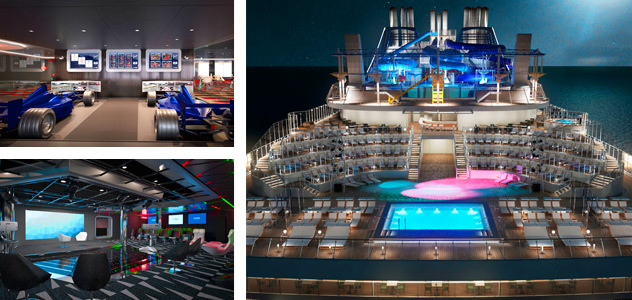 MSC Meraviglia might be the most innovative cruise ship debuting in 2017. The entire ceiling of the promenade is an LED screen displaying animated visuals, and the relaxing Horizon Pool transforms into an evening hotspot for dancing and entertainment.
The unique onboard entertainment includes two Formula1 virtual-reality race cars, a full-size bowling alley and a Sportplex that transforms from a multi-purpose sports venue during the day to a dance party at night. With so much to see and do on MSC Meraviglia, you'll never hear the words "I'm bored!" Of course, MSC Meraviglia also offers several relaxing alternatives, such as the MSC Aurea Spa, for guests seeking something a little less action-packed.
Key Features:
Polar AquaPark: There's fun for the whole family at MSC Meraviglia's water park, featuring a dump bucket and three twisting waterslides. Afterwards, we suggest air drying on the Himalayan Bridge ropes course suspended overhead.
Cirque du Soleil at Sea: Enjoy dinner and jaw-dropping original shows by Cirque du Soleil, exclusively with MSC Cruises, in the high-tech Carousel Lounge. This new venue is designed specifically for the sensory experience that is Cirque du Soleil at Sea!
TV Studio & Bar: This multi-purpose entertainment venue features a broadcast room and TV studio for live broadcasts of onboard talent contests, game shows, quizzes and more. You can also enjoy live music, comedy and karaoke here.
MSC Meraviglia debuts in June 2017 for a season of Mediterranean cruising out of Italy, Spain and France. MSC Meraviglia is already available to book; contact one of our cruise experts today at 1-800-377-9383 to sail aboard MSC Cruises' newest ship.
---


MSC Seaside (MSC Cruises)
Maiden Voyage: November 30, 2017
Passenger Capacity: 4,140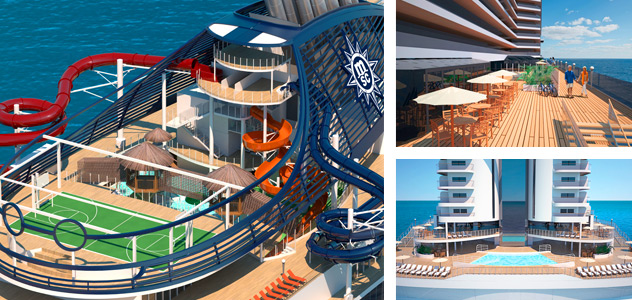 Sophisticated Italian style meets contemporary convenience aboard the MSC Seaside, arriving in Miami in December 2017. We can hardly wait to stroll along the wraparound Waterfront Promenade or experience the ship's expansive Aquapark and cutting edge onboard entertainment venues.
If high-flying waterslides and mindblowing racing simulators aren't enough, the MSC Seaside will also feature all of the incredible live entertainment that's truly become a hallmark of MSC Cruises. MSC Seaside will also include an in-depth youth zone, plenty of dining options and several relaxing retreats.
Key Features:
Aquapark: Included in the MSC Seaside's towering Aquapark are five waterslides, a few of which twist and turn out beyond the edge of the ship. MSC Seaside's innovative Aquapark will also be the first to include slide boarding, part video game and part waterslide.
Waterfront Promenade: Wine and dine your way around the sunny outdoor Waterfront Promenade, and then catch your breath sunbathing and plan out your promenade shopping spree.
Dedicated PortMiami Terminal: MSC Cruises and PortMiami are collaborating on a newly renovated and dedicated berth and terminal in Miami, which will serve as the ship's new homeport. This new collaboration exemplifies the line's dedication to every facet of the guest experience.
On November 30, 2017, MSC Seaside will make her maiden voyage across the Atlantic to Miami, Florida where she'll homeport for a season of Caribbean voyages. MSC Seaside is now available to book; contact our friendly cruise consultants at 1-800-377-9383 to experience this new ship.
---
 
Feeling overwhelmed by all of the interesting new ships and their various itineraries? Let our friendly team of cruise experts guide you towards booking the perfect cruise vacation. To learn more about these new cruise ships and to find out where they'll be sailing in 2017 and beyond, contact The Cruise Web's travel experts at 1-800-377-9383.
Which new ships are you most excited to experience for yourself?




The Cruise Web, Inc.
reply@cruiseweb.com
1-800-377-9383