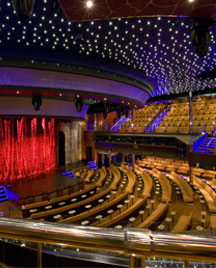 The fall 2016 concert series for Carnival will feature some incredibly talented artists who have achieved great success in their various fields of entertainment. With huge audiences and countless social media followings, you can't afford to miss out on what is set to be one of the best onboard productions in the world of cruising. These captivating shows will include performances from Sam Hunt, Jim Gaffigan and Chris Tucker. Sailing with a shipful of fellow fans eager to see their favorite artist/comedian promises an atmosphere filled with massive energy and unforgettable encounters you are sure to rave about.
American Music Award recipient, Grammy-nominated artist and chart-topping country musician Sam Hunt will deliver spectacular shows aboard Carnival Fantasy on October 19th and Carnival Splendor on October 20th, 2016 in Cozumel, Mexico.

Make it a point to see Jim Gaffigan, multi-platinum selling artist, Grammy award-winning comedian and New York Times best-selling author, as he takes down the house with rib-cracking comedy performances aboard Carnival Valor on September 6th and Carnival Fantasy on September 7th, 2016 in Nassau, Bahamas.

Comedy legend Chris Tucker will also be on stage aboard Carnival Freedom in Grand Cayman on October 25th and aboard Carnival Dream in Montego Bay on the 26th with his outstanding humor and energetic stand-up routine.
This exclusive entertainment experience is courtesy of Carnival LIVE! Get your VIP tickets ranging between $100 and $250 for a seat in the first five rows, a photo opportunity with the performers and a commemorative concert pass. General admission tickets are also available for $30-$75. Call 1-800-377-9383 to book a Carnival cruise with The Cruise Web today to be a part of this extraordinary experience!




The Cruise Web, Inc.
reply@cruiseweb.com
1-800-377-9383