Father's Day Focus: Welcoming a New Son (in-law) on a Cruise
By Glenn Bonds, Cruise Consultant, The Cruise Web, Inc.
There's nothing like a 7-day cruise to help you get to know your future son-in-law. That's what happened when my only daughter, Julie, found her prince charming.
My wife Vicki and I saw the relationship grow past my daughter Julie's initial reaction, "He is not my usual tall, dark and handsome kind of guy," to the point where she was saying "Two out of three isn't bad." Her only complaint was that Matt was so quiet.
We had come to appreciate Matt's giving nature when, shortly after they met, he volunteered to stay overnight at the hospital with Julie following a surgery she had. He is a fire fighter/paramedic and said he was used to missing sleep. It was just his first kindness.
At family gatherings, Matt seemed to fit right in. Julie's brothers took to him easily because he was a patient listener (still quiet!) and they were very protective of their sister. Matt understood that because he has two sisters of his own.
In late spring of 2007 we were planning a Western Caribbean cruise on Royal Caribbean's Liberty of the Seas for September and invited Matt along for his first cruise experience. He and Julie had been dating for a bit more than a year and Julie had given us the green-light. As it turned out, our sons could not take the trip, so it was just Vicki and I with Matt and Julie.
It was a busy summer leading up to our cruise. Our long-time neighbor was getting married and lots of fun surrounded that event. One afternoon before the neighbor's wedding, I had a surprise visit from Matt. He asked me for permission to marry Julie. Naturally I told him I had no say in the matter. It was totally up to Julie, but if it was okay with her it would be fine with me.
Matt didn't want to take away from our neighbor's wedding and was looking for the right time to pop the question. The cruise was just around the corner and was his choice of time. Somehow Vicki and I were able to keep the lid on until the morning of the 2nd day of the cruise when our stateroom phone rang and Julie shrieked her wonderful news to us! Clearly she said "YES!" Matt was still pretty quiet.
Over the next few days we had a truly wonderful time learning more of the details of our soon-to-be new son. He found cruising to be very much to his liking as we visited with stingrays in Grand Cayman and took a fabulous catamaran cruise at Cozumel. Through it all we could see that quiet Matt was a quality catch. His manners and thoughtfulness spoke much louder than any words he might offer.
Julie thought so too, and still does. Today, one wedding, two cruises and three kids later we will celebrate Father's Day with memories of our first cruise with Matt and dreams of our next outing.
Want to take a cruise with your dad or family? Check out this quiz to help find the perfect cruise itinerary for your dad!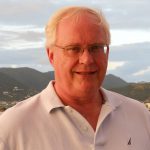 Glenn Bonds
Cruise Consultant
The Cruise Web, Inc.
1.800.377.9383 ext. 426
glennb@cruiseweb.com