Viking Oceans Adds New Ships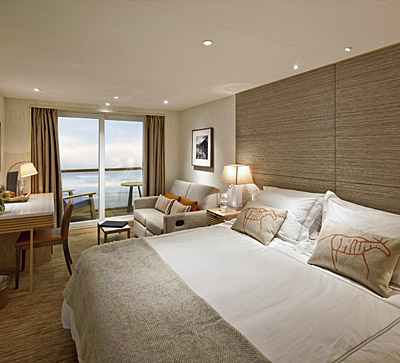 For those familiar with the Viking brand, it's no surprise to hear that they are growing. For the past few years, growth has been the major goal of the popular river cruise line. In 2014 the river cruise brand is adding 14 new ships, bringing the company's new ship total to 30. However, the company's growth isn't only restricted to their river ships. In 2013, the cruise line announced they'd be branching out with two new ocean-going ships. The first of these ships, the Viking Star is expected to arrive in May 2015. Before construction of the first ship even finished, Viking Oceans has already decided to add two more ships to their fleet.
Viking Oceans will now consist of four ships, each capable of accommodating 924 passengers. The ships will have sailings that focus on the culture of the ports of call and the region the ships are sailing in. The newly announced ships are set to debut in 2016 and 2017. The second Viking Oceans ship, which has yet to be named, will debut in March 2016. This news comes just as the company laid the keel on the Viking Star, officially starting the second phase of her construction.
According to Torstein Hagen, Chairman of Viking Cruises, the brand new line is doing well. "Our new ocean itineraries are selling at an unprecedented rate, and the enthusiasm we have seen from guests is truly remarkable," he said.
We here at The Cruise Web are excited about this announcement, as we know that Viking offers a wonderful product for cruisers who are interested in the culture of Europe. Currently, Viking's itineraries are focused on the spacious and modern ports of Scandinavia and the rich and popular stops along the Mediterranean. If you are interested in a Viking cruise, be it a river cruise or a sailing on one of their new ocean ships,  call us today.


The Cruise Web, Inc.
reply@cruiseweb.com
1-800-377-9383