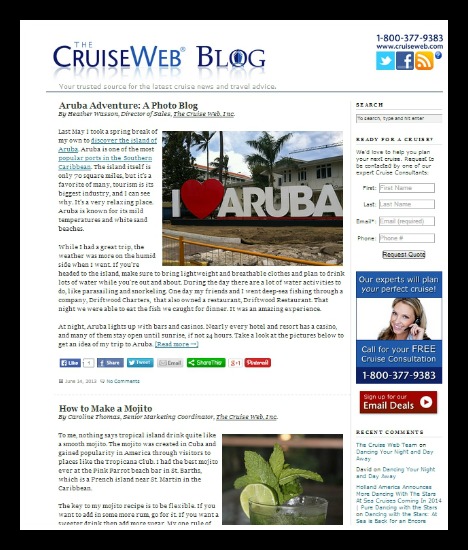 This year The Cruise Web stepped up our blogging game, covering all aspects of the cruising industry. We added more special features, like a cost comparison between luxury and premium cruising, an infographic about new ships like the Royal Princess and lots of cruise recipes. For a great review of our 2013, here are our most popular blogs from 2013:
10. Travel is definitely a way to explore the world around you. So, it's no surprise we got lots of attention when we listed out the new ports that cruise lines plan to visit in 2014 and 2015. These include Viking River Cruises to Bagan in Myanmar and Celebrity's new visit to Lautoka, Fiji.
9. To go along with the new ports, we also chronicled upcoming cruise itineraries that we are still looking forward to for 2014 and 2015. From the relaxing 11-day Southern Caribbean sailings with Norwegian Cruise Line to the adventure of a 7-day journey through the Galapagos Islands on a Silversea cruise, there is something interesting out there for everyone.
8. 2013 marked the debut of the Norwegian Breakaway, a stunning ship that is based out of New York City. Many members of  The Cruise Web team had the opportunity to experience the ship on a 2-day inaugural. We turned many of our experiences into blogs, including one titled Tips and Tricks on the Norwegian Breakaway.
7. You can also get a great overview of the highlights of the Norwegian Breakaway by reading a compilation we put together of our team's favorite experiences on board.
6. One of the most important aspects of the Caribbean, aside from cruising, is rum. This alcoholic beverage has historically been  a major export and continues to be a popular Caribbean made product. It's no wonder people loved learning about the cocktails associated with 11 of the Caribbean islands.
Keep reading to see our 5 most popular posts!
5. We had a lot of fun putting together our Seven Sins of Cruising newsletter, featuring all the "sinful" fun you can get yourself into on a cruise. This was also one of our very first infographics. If you haven't read it yet, let us know which "sin" you are most guilty of.
4. One of the cruise industry's biggest names, Royal Caribbean, made a major announcement this year, which attracted a lot of attention. The cruise line announced they would be building two new ships – Quantum of the Seas and Anthem of the Seas.
3. Just as people were curious about the upcoming ports and itineraries the cruise industry was offering, they were even more excited to hear about the new ships making their debuts in 2013. 2013 was certainly a banner year for ships with the Royal Princess, the Norwegian Breakaway and many new river ships.
2. The Norwegian Breakaway was a show stopper in its own right, but paired with the culinary prowess of the Food Networks' Iron Chef Geoffrey Zakarian, it was nearly unbeatable. Our review of  Zakarian's Ocean Blue restaurant on the Norwegian Breakaway has been a hit with our readers.
1. Our number one read this year was our Official Guide to New Cruise Ships. This comprehensive document features all the ships that are on their way to a port near you, or have made their debuts in the last year. This is a great guide for any cruise enthusiast.
So there you have it, our most popular posts of 2013. Stay tuned for lots of interesting posts for 2014. What would you most be interested in reading about, more info on new ships, drink recipes or destination features?



The Cruise Web, Inc.
reply@cruiseweb.com
1-800-377-9383