New Ship for Norwegian Cruise Line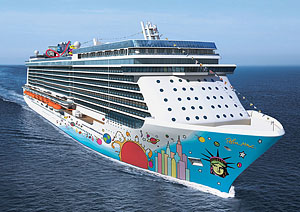 Norwegian Cruise Line put in the order for a third new ship, which has yet to be named. Temporarily called the Breakaway Plus, this ship will be 163,000 gross tons and accommodate 4,200 passengers. This ship is set to be completed in October 2015.
In April 2013, the cruise line will debut the Breakaway, a long-awaited ship that will sail from New York City and feature new innovative spaces like a boardwalk with dozens of restaurants, fun Broadway programming and a two-story spa. Then in January 2014, the Breakaway's sister ship, the Getaway, will arrive.
"I think Norwegian is really after the market and the success of the Royal Caribbean Oasis-class ships.  It seems that bigger is, in fact, better these days in the contemporary cruise market and I'm interested to see NCL continue to put a modern spin on the large-ship cruise trend," said Mike Harris, sales manager at The Cruise Web.
The Breakaway Plus is expected to cost Norwegian approximately 700 million euros and will be built by MEYER WERFT, a German ship builder that is currently building the Breakaway and Getaway and previously built Norwegian's four Jewel-class ships.
Are you excited to hear about all the growth and new ships coming from Norwegian lately?


The Cruise Web, Inc.
reply@cruiseweb.com
1-800-377-9383