Results for The Cruise Web's Baltimore Marathon Relay Team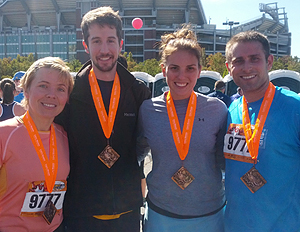 On October 13, 2012, The Cruise Web participated in the Baltimore Running Festival's Mixed Team Relay for the second consecutive year. This year's team, which featured returning members Karolina Shenton, Seth Woodward and Yossi May, along with newcomer Caroline Thomas, improved upon last year's time by nearly 30 minutes to cross the finish line at 3:52:55.
Seth got things started with a tough first leg and then handed off to Caroline who powered on through the halfway point. Caroline then handed off to Karolina who made up even more ground before turning it over to Yossi, once again in the anchor position. Yossi brought it all home for 131st place overall in the Mixed Team Relay. This marked a huge improvement upon last year's finishing position of 313th overall!
We're proud of the team for representing the company while improving upon last year's effort. We'll look forward to the 2013 Baltimore Running Festival where the team will be aiming to crack the top 100.
Congratulations to Team Cruise Web!
Have you ever participated in the Baltimore Running Festival or a similar race? Sound off in the comments below.




The Cruise Web, Inc.
reply@cruiseweb.com
1-800-377-9383