Pumpkin Flavors at Sea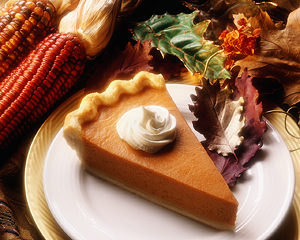 Pumpkin flavored food and drinks are all the rage this month. From pumpkin soy lattes to pumpkin pie flavored bread sticks, now is the time to get your fill of this orange fruit in all its glory. And don't worry about missing out on the pumpkin goodness while at sea, because  cruise lines' chefs and bartenders come prepared with pumpkins, nutmeg and cinnamon to ensure you get the taste of fall, even if you're sailing in the southern hemisphere, where it's spring.
Celebrity Cruises has their own take on the classic Pumpkin Pie. Follow this recipe for Pumpkin Pie with Vanilla Chantilly  featured in Celebrity's own cookbook, Excite the Senses, to add some flair to your next fall meal.
This recipe only includes the filling and serves six. To get Celebrity's pie crust recipe check out their cookbook Excite the Senses.
Ingredients
Filling

8 oz. fresh pumpkin, diced
3 oz. cream cheese
2 oz. granulated sugar
1 tsp. ground cinnamon
1 tsp. ground cardamom
1 tsp. Chinese five-spice powder
1 oz. vanilla extract
3 large whole eggs

Chantilly

4 oz. heavy cream
1 oz. granulated sugar
1 tsp. vanilla extract
Instructions:
Preheat the oven to 375 degrees F.
In a saucepan, cover the diced pumpkin with water, cook until it's soft.
Remove from the heat, drain and mash.
In a mixing bowl, mix the cream cheese, sugar, spices and vanilla extract.
Add the pumpkin and eggs to the mixture and blend until smooth.
Pour into a pie crust shell and bake for at least 35 minutes.
For the chantilly, in a mixing bowl, beat cream, sugar and vanilla extract together until soft peaks form.
Refrigerate.
Spread chantilly on top of the pie before serving.
Do you love sailing during the fall?


The Cruise Web, Inc.
reply@cruiseweb.com
1-800-377-9383