3 Tips for Staying Safe in the Sun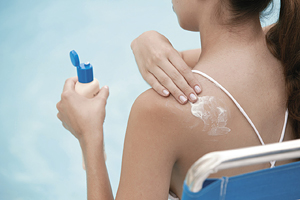 For most people a cruise means a lot of fun in the sun. Days are spent on beaches, lying poolside and exploring the great outdoors. But while you enjoy the outdoors and all your cruise has to offer, there are a few simple things to do to make sure you don't come back looking like a lobster.
1. Always, and we mean always, wear sun screen. No matter whether you are lounging on a beach or skiing through the mountains, sunscreen is vital. The sun's UV rays are powerful and, though you might not see them, they are there. The CDC recommends a sunscreen with an SPF of 15 or higher. If you are going to be out all day, reapply every 2 hours and after swimming or any activity that causes you to sweat.
2. Cover Up. If you don't want to keep lathering on the sunscreen, you could put on sun protective clothing. This means tightly woven long sleeve shirts and pants. The darker the color, the better. A great way to add an extra ounce of sun protection is to wear a wide-brimmed hat.
3. Spend some time in the shade. From 10 a.m. to 4 p.m. the sun is at its strongest and can do the most damage. During these hours you can explore all the lounges and open spaces that your cruise ship has to offer. If you are in port, take in a museum or go shopping.
What are your tips for staying safe in the sun?


The Cruise Web, Inc.
reply@cruiseweb.com
1-800-377-9383