Courtesy of Norwegian Cruise Line.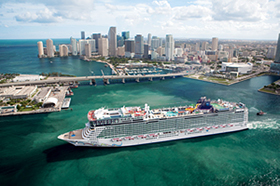 Not since "The Love Boat" have cruise ships gotten so much screen time. Lifetime Network will be premiering a new dating reality series, "Love for Sail," which takes place on three of Norwegian Cruise Line's ships. The show will premiere on Tuesday, April 10, 2012, at 10 pm ET/PT.
In each episode of "Love for Sail," four women looking for love will board a Norwegian Cruise Line ship, either Epic, Pearl or Star and set sail to exotic locations surrounded by a group of equally-eager single men ready to embark on what they hope to be the voyage of their lives.
"We are thrilled to work with Lifetime … on a unique series that showcases the many aspects of cruising from lavish suites and incredible dining options to innovative on board activities and exciting shore excursions," said Kevin Sheehan, Norwegian Cruise Line's chief executive officer. "There is such romance in being at sea; this show will do a great job of showcasing that and sharing the stories of these guests who may find the love of their life aboard."
With the help of series' Cruise Directors Bucko and Carmen, the women meet their suitors at an opening mixer where the matchmaking begins. Throughout the cruise, the singles participate in a variety of romantic dates on board, mixer parties and adventurous excursions in beautiful ports of call such as Ocho Rios, Jamaica and Nassau, Bahamas.
The show will be able to show viewers many of the ships' destinations along with rooms and public spaces on board.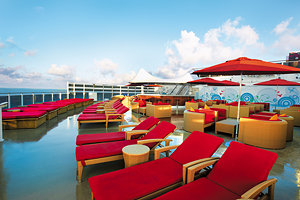 Norwegian Epic, the line's newest and most innovative ship to date, hosted the women in The Haven by Norwegian, the line's exclusive suite complex on three private decks at the top of the ship. Viewers will catch an intimate glimpse of Posh, The Haven's luxurious beach club and The Haven Courtyard. Mandara Spa, the largest spa at sea; Bliss Ultra Lounge, Epic's hot nightclub; and Spice H20, the ship's adult-only pool area, will also be featured as the women search for love at sea. The women sailed on Norwegian Epic's cruise to the Eastern Caribbean, calling on St. Thomas, US Virgin Islands; Phillipsburg, St. Maarten and Nassau, Bahamas from Miami, Florida.
Norwegian Pearl also has a starring role in "Love for Sail," with the women staying in The Haven by Norwegian in the largest suite at sea. The luxurious 5,000 square foot, three-bedroom Garden Villa, complete with a private living and dining room, sundeck and hot tub. Various aspects of the ship will be highlighted including the Great Outdoors bar; La Cucina, the ship's Italian restaurant; the pool deck; Maltings Beer & Whiskey Bar; Summer Palace and Bliss Ultra Lounge, among others. Love was in the air as Norwegian Pearl sailed to the Western Caribbean from Miami, Florida, visiting Great Stirrup Cay, Bahamas; Ocho Rios, Jamaica; George Town, Grand Cayman; and Cozumel, Mexico.
Norwegian Star also makes a cameo appearance. Four women board the ship in Los Angeles, California on a Mexican Riviera cruise that stops in Cabo San Lucas, Mexico.



The Cruise Web, Inc.
reply@cruiseweb.com
1-800-377-9383