The Cruise Web Reports for Duty in "Operation USO Care Package"
The Cruise Web and several members of BNI Prosper Alexandria answered a call for support from Lillian Cheng, President of the Alexandria Jaycees to support the USO program, "Operation USO Care Package." Duty called early Saturday morning on July 16th at Ft. Belvoir, VA to roll up our sleeves and get to work. Four two-sided assembly lines were in place to fill packages including camouflage bags stuffed with donated supplies and items purchased with donated funds.
In three hours, 5,838 care packages were assembled by volunteers representing companies and organizations in and around the DC metro area.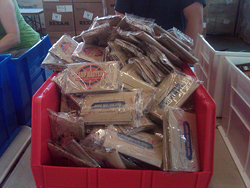 Every care package was filled with "comforts of home" such as playing cards, toiletries, sunscreen, lip balm and snacks (many items at the request of our troops). Of course, no snack package would be complete without microwave popcorn!
To date, more than 2 million care packages have been shipped to service men and women overseas. To learn more about the USO, visit www.uso.org.
The Cruise Web is honored to be a part of such and extraordinary program of giving and support.


The Cruise We, Inc.
reply@cruiseweb.com
1-800-377-9383