The Cruise Web's President Rubs Shoulders with Hollywood Stars
The Cruise Web's founder and President, Frans Hansen, joined the stars at the world premiere of Arthur at New York City's famous Ziegfeld Theater last month. This Warner Brothers' picture, directed by Modern Family's Jason Winer, is a remake of the classic 80s comedy Arthur, starring the late Dudley Moore.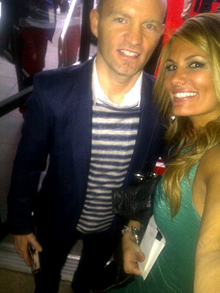 Frans was the guest of his sister, Spike TV's Powerblock host, Courtney Hansen. Courtney took the wheel from Indy racer Danica Patrick six years ago to host the five shows that make up Spike TV's Powerblock. This now includes MuscleCar, HorsePowerTV, Trucks!, Xtreme 4×4, and Search & Restore. Courtney is also the spokesperson for Auto Trader, author of her own book, The Garage Girl's Guide to Everything You Need to Know About Your Car, and can be seen on reruns of Overhaulin' on Discover Channel and TLC (see CourtneyHansen.com for more).  With automotive roots that trace back to her toddler days at the road racing circuits cheering on her and Frans' father, 27-time SCCA National Champion Jerry Hansen, Courtney is the one of the preeminent female hosts worldwide for the automotive industry!
After the premiere, Frans and Courtney celebrated with Arthur stars Russell Brand, Helen Mirren, Greta Gerwig, Jennifer Garner, and the rest of the cast at the premiere's after party.  Frans and Courtney took this fun opportunity to snap a few impromptu cell phone photos with the stars (see below).
When he does have the opportunity to meet up with Courtney (the two live on opposite coasts), Frans hears many compliments about his beautiful sister.  Frans tells us he replies to those compliments by stating that in addition to her natural beauty, "Courtney is genuinely one of the kindest and hardest working people I know."


The Cruise Web, Inc.
reply@cruiseweb.com
1-800-377-9383