Sailing Goodbye to 2010
A compilation from The Cruise Web employees.
Does the Holiday Season stress you out and leave you feeling beyond exhausted when it's all over? Well, a few lucky Cruise Web employees were able to take a break from the hustle and bustle of the holiday season and set sail on a cruise vacation. While the rest of the office was tired and cold from the holiday, these employees came back relaxed and well-rested. They were able to share the joys of traveling during the holiday season. I wouldn't be surprised if next year a few more employees escape during the holidays for some rest and relaxation!
Brandon B.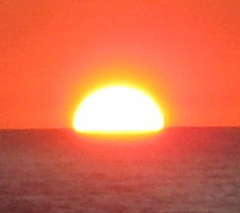 I came home from my cruise on Regent's Seven Seas Voyager feeling one thing, relaxed! The seven-night itinerary took me to Mexico, Belize and Guatemala, areas rich in their Mayan roots.  I did manage some site-seeing, but spent a majority of this cruise enjoying Regent's luxurious, all-inclusvie atmosphere.  If you need a quick getaway to recharge your batteries, this is the cruise for you!
Rashell O.
Cruising is always a great way to travel, especially over the holidays. This Thanksgiving I decided to throw out my apron and my shopping list and instead sail away on a relaxing cruise with my good friend. What a wonderful trip – four ports, great food, championship gambling and free movies! What more could I ask for?
Princess Cruises treated me well as I went to the Eastern Caribbean and toured all the sites. When Thanksgiving came I was honored to have two celebratory meals; one in St. Thomas and another on the ship. How you ask? Well, while returning to the ship from touring St. Johns I needed a few essentials at the local grocery store in St. Thomas. Lo and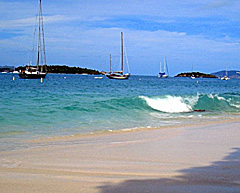 behold, the grocery store was honoring its customers and thanking them with a wonderful Caribbean meal. Ummm, I was in heaven; rice and peas, turkey, macaroni and cheese and this amazing gravy that made you want to lick the plate. After I indulged I went back to the ship and relaxed. Since I chose anytime dining I went to the last seating so that I could try Princess' Thanksgiving meal. Boy was it good! Instead of having the traditional options, I chose a lamb dish – it was delicious. I was satisfied and the best part was there was no cleanup or leftovers to figure out what to do with. Heaven I must say.
Besides the food, my favorite experience was the casino. I had the honor of making it to the championship round of blackjack. And the funny thing was that even though my friend did not place, she won the wildcard opening so we were able to play together. So much fun! Even though I did not take the winnings home, I came in second and won a free hat and a bingo ticket. Hey, pleased me! Next time forget all the work that the holidays require and book a wonderful trip aboard your home at sea.
Craig J.
For the first time, I spent this past holiday season sailing on a cruise. It was both my first time spending the holidays on vacation and being aboard the Ruby Princess; both experiences were great. Being from the North East United States, the idea of snorkeling in 80-degree weather on Christmas day seemed like a fantasy, but in truth, I can't imagine spending it any other way. The entire 7 days of the cruise I felt disoriented; The ship was full of Christmas trees and there was caroling (with fake snow and gingerbread houses), yet there was no sign of the normal bone-chilling wind and gloomy grey clouds that I endured the week before.
After getting over the shock of being able to wear my flip-flops and shorts outside in December, I was able to really enjoy myself. The first day was spent on the private island, and it was exactly what I needed… hours of lounging in the sun detoxing from my e-mail and Facebook account. My favorite part of this cruise, aside from the weather, was the day at port in St.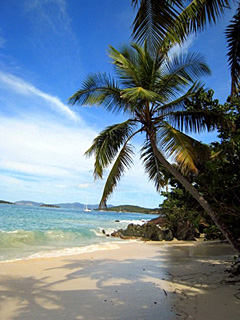 Thomas. I took a 30-minute ferry to St. Johns, passing dozens of smaller islands along the way. Once I got there, I hiked along a path with a family I met, and they led me to paradise, or a Corona commercial set… either way, I had never seen a beach like this in real life and just those three hours at that beach made the entire trip. The beach was called Honeymoon Beach and, unlike some of the other beaches I had been to prior to this port, it was practically deserted. Behind me were L-shaped palm trees, curved as if trying to reach for the water, and vines and other exotic foliage strewn with towels and flip flops placed there to keep the tide from taking them out to sea. In front, were clear blue water, sail boats anchored in the distance, and a Pelican I named Bob (because it was just floating in the water, and bobbing up and down for a solid hour). The best part about that day is that I now know where I want to retire to, or even better, open the first Caribbean branch of The Cruise Web…
Gloria H.
Sailing the Mediterranean on Cunard's Queen Victoria was a pure delight. At first I wasn't sure how I would receive the ship and the other passengers: after all it was "CUNARD, the most famous ocean liners in the world." However, I was pleasantly surprised at how laid back and inviting everyone was. I loved all of the formal galas on board, especially the masquerade ball and how just about everybody really got into it in one-way or another. The wait staff was absolutely a joy. The very personable maitr'd, Atilla "the Hungarian" was a carbon copy of Franc (the larger than life wedding planner from the movie Father of the Bride). I really appreciated his ability to make me laugh and feel comfortable on the ship.
The best time and money I have ever spent on a cruise was the nominal fee to have almost daily access to the Royal Spa area.  This granted me access to the Thermal Suite (offering three different sauna treatments), the Hydro-Pool (which is similar to a regular pool, but with massaging jets), and the heated, tiled chaise lounge chairs with the sea view. The Royal Spa area was heaven on a ship.
My Mediterranean cruise was 12 nights of exciting ports with Valletta, Malta being my favorite stop because of the diversity of neighborhoods. Also, The Grandmaster's Palace was amazing and certainly lived up to its name. I also enjoyed St. Paul's Bay and its trendy shops and cafes, along with the a beautiful beach area. This is said to be where the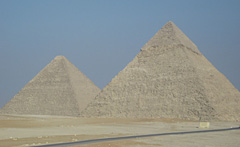 Apostle Paul was shipwrecked. WOW! The Great Pyramids is a sight that all should see and experience at some time in their life. I am glad to be able to cross that off my "bucket list." Next there was Limassol, Cyprus where there is a little village called Omodos. It was charming and tiny, yet I found the most beautiful amber ring (and for a wonderful price). I was amazed at all of the handmade and very unique jewelry they had to offer and at such reasonable prices. A jewelry shopper's haven!
I absolutely loved my cruise: There's no better way to be wowed by delicious dining experiences, find relaxing and rejuvenating pleasure, participate in exotic adventures (I rode a camel in the Sahara Desert, how cool is that?) and find one-of-a-kind trinkets to bring back home as memories of your exciting cruise holiday.
So when are you going to start planning YOUR next adventure?


The Cruise Web, Inc.
reply@cruiseweb.com
1-800-377-9383