Cruise Web New Year's Resolutions
A compilation from The Cruise Web employees.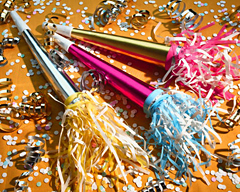 The Cruise Web employees have decided to share with you some of our New Year's Resolutions for 2011. We all hope to keep them and will encourage each other to achieve our goals throughout the year! We'd love for you to share your resolutions for 2011 so we can encourage you to achieve yours too!
Adam W.
My New Year's Resolution is to answer all of my e-mails and return my calls in a timely manner.
Mark G.
My goal for 2011 is to quit smoking!
Rashell O.
To take action! Don't talk the talk, walk the walk!
Jamie E.
My New Year's Resolution is to cook more! Since I no longer live close to home, and my fiance is a "frozen dinner guy," I figured I need to step-up and learn to cook! So far I love it, and it definitely saves money!
Kevin S.
My New Year's Resolution is to get my deck and roof replaced.
John T.
My resolution is to lose weight and gain height! Also, I resolve to make 2011 my happiest year.
Chris R.
To visit my family in Colorado and Canada this year. And to visit college friends in Chicago and Peoria sometime this year.
Mike H.
My daughter is 3-months-old, my resolution is to get her on her first cruise!
John H.
My New Year's Resolution is to lose 10 pounds and start working out a bit more.
Caroline T.
My resolution for 2011 is to save money and go shopping less.
Lauren W.
My New Year's Resolution is not to become a bridezilla!
Seth W.
My New Year's Resolution is to keep up with my car's scheduled maintenance. No more oil changes every 6,000 miles!
Now that you've heard ours, we want to know what resolutions you've made for 2011. You haven't broken it already, have you?