Regent Seven Seas Cruises Competes at Charity 'Burger Bash' in New York
Courtesy of Regent Seven Seas Cruises.
Regent Seven Seas Cruises competed against 22 of the country's finest restaurants at the Food Network New York City Wine & Food Festival. The ultra-luxury line's Prime 7 steakhouse participated in the "Blue Moon Burger Bash;" proceeds from the sold-out event benefit the Food Bank For New York and Share Our Strength®.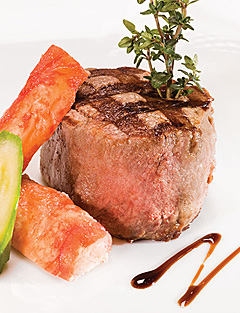 "We were delighted to put our Prime 7 Burger up against the best burgers in the nation," stated Kari Tarnowski, Regent Seven Seas Cruises' senior vice president of marketing. "Our guests consistently rave about the Prime 7 steakhouse on our ships and those sentiments were echoed loud and clear by patrons and Food Network chefs at the festival." In fact, "Dinner: Impossible" Host Robert Irvine gave a thumb's up to Regent's culinary director, Bernhard Klotz, on a job well done.

The Prime 7 Burger, created by Chef Klotz, was topped with lobster meat, frisÉe and braised leek in star anise. It was accompanied by Napa cabbage slaw with crisp bacon and scallions.
Over 2,300 foodies attended the Burger Bash hosted by Rachael Ray in Brooklyn and attended by such notables as New York City Mayor Michael Bloomberg, the Travel Channel's Andrew Zimmern and Samantha Brown and Iron Chef Bobby Flay. In addition to Irvine, some other Food Network personalities who enjoyed Regent's burger included Bob Tuschman, vice president of programming and production; Anne Burrelle, host of "Secrets of a Restaurant Chef" and Aarti Sequeira, who won Season 6 of "The Next Food Network Star" and is now host of her own show: "Aarti Party."
Prime 7 – a contemporary American steakhouse – recently celebrated its first anniversary on board the Regent's award-winning, all-suite vessels. Guests can dine on dry-aged Prime beef and Maine lobster with traditional and inventive side dishes, with no surcharge.


The Cruise Web, Inc.
reply@cruiseweb.com
1-800-377-9383