By Frans Hansen, President, The Cruise Web.
My sweet, tiny, late Swedish grandmother, Svea, was the most giving person that I've ever known. "Mormor" (translated "Mother's-mother"), as my siblings, cousin and I called her, grew up in the small southern Swedish seafaring village of Brantevik. There, she found her love, my "Morfar" ("Mother's-father"), Lennart Larsson, a maritime painter and artist, before marrying and moving to the bigger cities of Eslöv and then Malmö, where they raised two beautiful daughters, Lena Ingegerd and Ann-Marie. When the girls reached teenage years and Svea had extra time, Svea leveraged her studies in child-care to begin caring for neighborhood children from her home.
"Tant Svea" ("Aunt Svea"), as all the neighborhood children called her, was everyone's favorite. She always had little snacks in her coat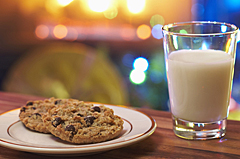 pockets for every smiling face, and no tiny neighbor could pass by her kitchen window without being invited in for a cookie and some hot cocoa. Svea was always kind and sweet, taking joy in the happiness of every child, and feeling any child's hurt as if it were her own.  When discipline was required, Svea had to force herself to try to seem sterner – yet she always betrayed her efforts with soft caring eyes that just couldn't play along.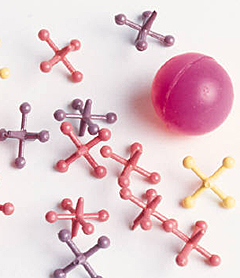 My first memories of visiting my Mormor include her doting on me, smothering me with hugs and kisses, getting down on the floor to play game after game as long as my interest would hold, and then feeding me until I almost burst.  A well fed child was a healthy child in Svea's eyes, so spoon after spoon of porridge was stuffed into my mouth until my slender shape would round out, or, in my case, until the porridge wouldn't go in any more.
Everything Svea did, she did for her children, grandchildren, and neighborhood children. When the children weren't around she took care of her husband, siblings, and relatives.  She gave to her church, and supported others in the community in need. When she visited the big cities in the United States, she could never pass a homeless person without giving money.
Interestingly, as the most giving person I've ever know, Svea was also the most joyful.

Svea didn't have to entertain herself with parties, shopping, thrills, or gifts.  When someone she loved gave her a gift, she was just so charmed at the gesture itself, that she would just smile, give thanks, smile more, and hold the gift.  We would often have to remind her to actually unwrap it and see what was inside.
Svea was able to find joy in the simplest things and in the most routine chores. I remember her taking a short break from preparing dinner one evening to cut orange peels into teeth shapes, and then turning around to look at me with a huge smile full of orange-peel buck teeth!  When she had an opportunity for a holiday, Svea loved visiting and looking out over the sea.  However, Svea always found a similar delight in watching a bird outside her kitchen window or marveling at a beautiful flower on her walk to the post office.
Was Svea just born a happy person? Perhaps. But I can also say with certainty, that the more she gave, the happier she was!
If giving equates to happiness, then the entire Cruise Web staff must be overjoyed this week! In the spirit of the Holidays, The Cruise Web decided to join together as a team to raise money for "Bright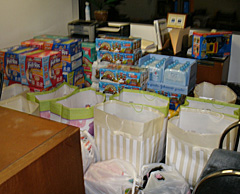 Beginnings," a local charity that supports, cares for and teaches young homeless children, and provides support for the children's families to get back on their feet.  I'm so proud of our team for coming together and donating with such generosity.  The Cruise Web matched the individual employee donations and sent a team to the center this week to personally deliver loads of supplies for the center and its children.
So is selfless giving then 'selfish', since it makes us feel so good? Perhaps this is the paradox of giving that my little Swedish grandmother, Svea, knew so well. Well if it is, then don't hesitate to be selfish this Holiday season — give to your friends; give to your family; give to your loved ones; give to those in need!

Frans G. Hansen
President
The Cruise Web, Inc.