The Cruise Web Recognized as "Mega Agency of the Year"

On Saturday, November 13, 2010, The Cruise Web attended Royal Caribbean's Crown Awards Gala, a black-tie dinner to honor the top 16 agencies in the mid-Atlantic region. The Cruise Web received a beautiful invitation for several members of The Cruise Web Team, including Cruise Consultants, Managers and Client Services Staff. Royal Caribbean's Business Development Manager for the region, Bob Rose, hosted the event and deserves special recognition for orchestrating this extravagant evening.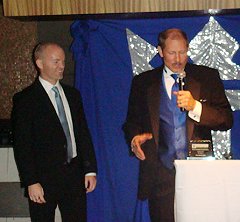 The evening began on the waterfront in Washington, DC where all attendees boarded The Odyssey, a local dinner cruise boat. The boat cruised up the Potomac River into Georgetown, passing all of Washington's breathtaking monuments. Aboard The Odyssey, photographers snapped photos as everyone was seated for dining. Meanwhile, The Cruise Web's Client Services Manager, Julie Atkins, created her own Hollywood red carpet and interviewed passengers on their formal attire, asking "Whom are you wearing this evening?"
After a wonderful meal, the night's festivities continued with the honoring of different cruise agencies in the mid-Atlantic region. All of the attending agencies were recognized for ranking among the top agencies in our sales region. The excitement of the night came when Royal Caribbean named The Cruise Web as "Mega Agency of the Year." The Cruise Web was acknowledged for its hard work and for exceeding goals set by Royal Caribbean this past year.
Tina Colicchio, Senior Cruise Consultant at The Cruise Web, described the night as "very alive and invigorating." Adding, "The respect and recognition shown by Royal Caribbean and Bob Rose towards The Cruise Web helps remind us that our hard work does not go unnoticed. Nights like this make everything even more worthwhile!"
The Cruise Web is proud to be named "Mega Agency of the Year" and would like to thank Royal Caribbean and Bob Rose for a wonderful evening!