Treat Yourself Right
A compilation from The Cruise Web employees.
When on a cruise or touring a new destination, everyone loves to indulge in the local foods and treats, usually breaking away from our healthy eating! The Cruise Web staff has come together to share with you some secrets behind our favorite treats, both on and off the ship! We would love for you to share some of your favorite "treats!"
Chris R.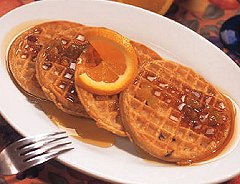 My favorite treat is a tough one, because there are so many and I like to take advantage of all of the treats. So here are my treats, in no particular order: A midnight slice of pepperoni pizza, soft serve ice cream by the pool, Celebrity's Sorbet Parade, an after-dinner drink of Frangelico, NCL's Midnight Chocolate Buffet, and waffles with whipped cream and fruit for breakfast. I'm sure I'm missing some, but that just means I have to go on another cruise so that I can refresh my memory. Happy Halloween!
Rabia T.
After dinner I always look forward to dessert when I can order chocolate-covered strawberries! The strawberries are always fresh and delicious. Plus, there is nothing more refreshing than fruit, with a little chocolate of course!
Adam W.
I absolutely love the thin crust pizza served on Princess Cruises… it's the best pizza at sea!
Raquel G.
Royal Caribbean's Voyager-class and up ships all have the Ben and Jerry's Ice Cream Shops on board – a wonderful treat on a hot day in the Caribbean or Mediterranean! Also,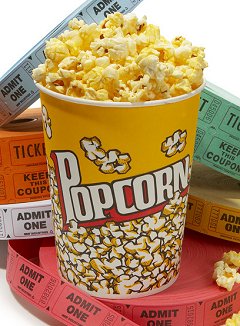 Princess Cruises' larger ships offer MUTS, also known as Movies Under The Stars. The giant movie screen is located over the main pool area, and they play family-friendly movies on most sea days for everyone to watch while sunning themselves and swimming. The real treat is during the movies in the evening – staff will bring around freshly popped popcorn or cookies and milk, and, on cooler evenings, a warm blanket and hot chocolate to enjoy during the feature presentation.
Heather W.
I love the soft serve ice cream machines on the pool deck!  After some time in the sun, it's a yummy way to cool off.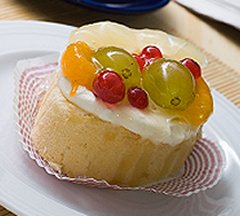 Mark G.
While I was on the Emerald Princess, I would look forward to waking up and walking down the hall for a pastry and a cup of coffee in the morning at the international cafe.

Karolina S.
My favorite on-board treat has to be the specialty restaurants on cruise ships.  I'm a self-proclaimed foodie, yet I rarely find the time for, or can justify the expense of going to a really good restaurant in the city.  However, when I'm at sea, I make sure that I book my nights in the ship's specialty restaurants. There I enjoy delicious seafood paired with my favorite wine. Of course, I finish my dinner with a dessert. All for less than the price of a cab into the city. What a treat!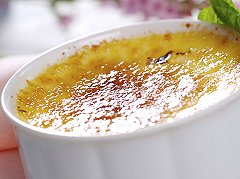 John T.
The crème brulee is always heavenly and afterwards I gently float through the ship back to my cabin. Also, being a diabetic, there are ALWAYS sugar free choices for desserts, either at dinner OR at the buffets.
Julie A.
I am really naughty when it comes to desserts on a cruise ship, especially at the lunch time buffets. Since you can have as many as you want, and I like to try them all, I always say they're not all for me! I also love the little pastries they make.
Gloria H.
There are quite a few treats that I enjoy when cruising: I just love when the wait staff from Celebrity Cruises comes along poolside with cool sorbet on a hot afternoon of sitting in the Jacuzzi and sunbathing. However, my absolute favorite is the NCL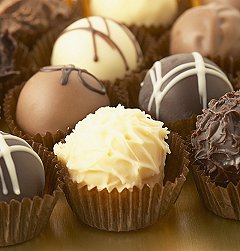 chocoholic buffet! Talk about a chocolate rush!! On an NCL cruise a while back, I was on my way out for a shore excursion and found out from the daily newsletter that at 4 PM they had this "Chocoholic Buffet." I mentioned to my cabin attendant that I was in such a quandary because I would not get back in time to experience all that magnificent chocolate. To my surprise, upon my return to my cabin, I was met with an array of chocolate torts, éclairs, cream puffs, brownies, cakes – you name it, it was all there. My cabin attendant had gone down and gotten one or two of each thing they had on the chocolate buffet and brought it to my cabin. Talk about attention to detail! I sat on my balcony the rest of the evening basking in the sunset, just me and my chocolate!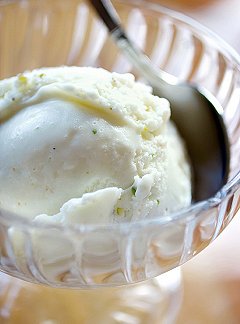 Beth T.
My husband and I love the delicious gelato that the Ruby Princess has in their beautiful Piazza.  It was so good we had to go back to keep trying different flavors… yummy!!
Sue R.
My favorite treat while cruising aboard any Celebrity Solstice-class ship is their Grand Marnier Crepes. These delicious treats can be found at Bistro-On-Five and are sure to warm anyone's palate and leave you wanting many more! I like to call them "yums in my tums!" Another sweet treat is the ice cream which is made fresh onboard Celebrity ships!
Jacques B.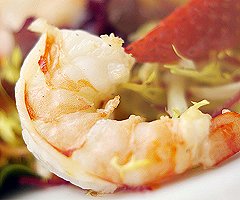 My personal favorites are lobster tails and shrimp, which are plentiful, plump and delicious! I would have to say that after tasting many shrimp and lobster tails my favorite are aboard Ruby Princess! Of course, nothing would go better with shrimp and lobster tails then a side filet! That sounds like a perfect treat to me!
Fiona K.
Dessert is my favorite part of the meal and I look forward to all the options cruise ships offer. One of my favorites was the Tiramisu served onboard the MSC Poesia. The top part was completely covered in bittersweet cocoa powder – it was heavenly!