Seabourn to Host Award-Winning Journalist Ted Koppel
Courtesy of Yachts of Seabourn.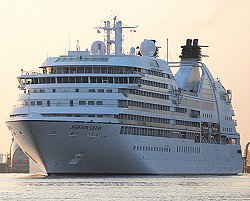 The Yachts of Seabourn has announced that multiple award-winning broadcast journalist Ted Koppel will join the exciting line-up of prominent guest speakers for its Dress Circle enrichment program on the 111-day maiden world cruise aboard the new Seabourn Sojourn. He will speak to guests on board the ultra-luxury yacht April 10 – 21, 2011, during two World Cruise segment voyages, sharing his insights about past and current world affairs and his experiences during a remarkable broadcast career.
The addition of Koppel to Seabourn's Dress Circle embodies the line's commitment to providing well-respected, entertaining and informative guest speakers at sea. The intimate size of Seabourn's yachts provides its guests with exceptional opportunities to meet and learn from these distinguished luminaries while sharing the voyage with them.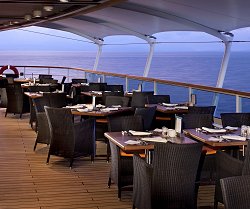 "We are so very pleased to welcome Mr. Koppel aboard Seabourn Sojourn and to have him share his extensive knowledge and insights with our guests," said Pamela C. Conover, Seabourn's president and CEO. "Even the best journey will be improved by sharing it with interesting companions. We always strive to assure that our guests are traveling in good company, and we feel Mr. Koppel will certainly add to the interesting guest mix that always makes a Seabourn cruise so fascinating," she added.
Koppel will be speaking onboard during two World Cruise segments: Dubai to Rome, March 26-April 15; and Rome to Southampton, April 15-27, 2011. Other guest speakers who will also be sailing during these segments include Carol Thatcher, British journalist and daughter of former British Prime Minister Margaret Thatcher; Gael Greene, legendary American restaurant critic and co-founder and board chair of the culinary charity Citymeals-on-Wheels; Caroline Boyle-Turner, art historian and author; Adrian Sindall, former U.K. Ambassador to the Middle East; Rick Senat, president of the London Film Museum; and British Egyptologist Karen Exell.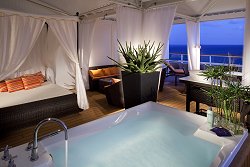 Ted Koppel has won every major broadcasting award, including 42 Emmy Awards, eight George Foster Peabody Awards, 11 duPont-Columbia Awards, 11 Overseas Press Club Awards, two George Polk Awards and two Sigma Delta Chi Awards, the highest honor bestowed for public service by the Society of Professional Journalists. He is best known as the anchor for Nightline from its inception in 1980 until his retirement in late 2005. After leaving Nightline, Koppel produced several documentaries for the Discovery Channel including a 2008 miniseries on China. The four-part People's Republic of Capitalism, is an extensive look at the role of Chinese consumers in the growing – but still communist economy. Koppel has received honorary degrees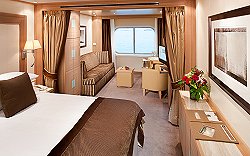 from numerous U.S. universities. In 1994, he was named a Chevalier de l'Ordre des Arts et des Lettres by the Republic of France. He is currently a senior news analyst for National Public Radio and the BBC.
On Jan. 5, 2011, Seabourn Sojourn will embark on a world cruise from Los Angeles to London, visiting 46 ports via the South Pacific, New Zealand, around Western Australia, Indonesia and Southeast Asia, India, Arabia and the Mediterranean.