Love Is in the Air

On October 13, 2010, The Cruise Web office was overcome by the excited shrills of ladies everywhere as employees celebrated the engagement announcement of Rabia Tallim, Human Resources Coordinator and Administrative Assistant.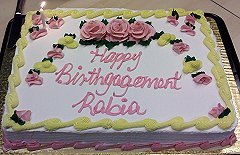 Rabia and her fiancé Terence have been dating for quite some time and it was just a matter of waiting for the perfect moment, which turned out to be the day before her birthday! The Cruise Web had a small surprise celebration in honor of Rabia's engagement and birthday, which we respectfully titled a "birthgagement."
The proposal was magical and perfectly described the couple: comfortable and intimate. Terence planned out a surprise dinner which included hiding the ring with the dessert. A wedding location has not yet been set, but the couple plans on either having it in Upstate New York or Hawaii, where their families are located.
The Cruise Web is happy to hear about the engagement and wishes both Rabia and her new fiancé all the best in their new lives together.