Costumes from Halloweens Past & Present
A compilation from The Cruise Web employees.
Halloween is the perfect time of year to let loose and step into an alter ego! The staff at The Cruise Web has taken a walk down memory lane and picked some of their own personal favorite costumes from Halloweens past and present. Do you have a favorite costume that you or someone you've seen has worn? We would love to hear your favorites! Plus it's a great way to get ideas for this Halloween in case you haven't started creating your costume yet!
Karolina S.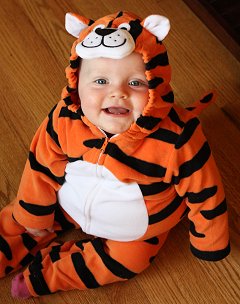 My 9-month-old daughter, Sophie, will be celebrating her first Halloween this year! Sophie will be an adorable little Tiger! My husband and I recently became members of FONZ (Friends of the National Zoo) and have been visiting the zoo with Sophie. When at the zoo, Sophie enjoys the colors and sounds of tigers, which helped us to decide on her first costume! We'll be accompanying Sophie as tiger handlers!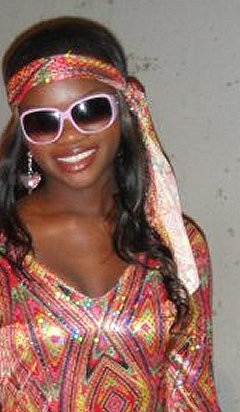 Priscilla A.
One of my favorite costumes was when I went as Disco Dolly, also known as Foxxy Cleopatra (named after the Austin Powers character). This costume is just shazam – it's a favorite because it takes you back to the 80's when times were just groovy baby.
Craig J.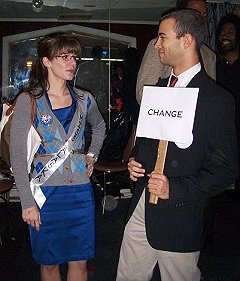 I have two favorite costumes from past Halloweens: President Obama and the butler from the cast of Clue. Two years ago, I dressed as President Obama for the Nightmare on M Street event in Washington, DC. There were tons of other Obamas and Palins walking the streets. I was lucky enough to get my picture taken with someone dressed as Mrs. Palin. My other favorite was being the butler from the cast of Clue with a group of friends who dressed as other Clue characters. I actually found my Butler Tuxedo costume on a manikin at Goodwill. The pants were a bit short, but the jacket fit like a glove… and it all cost $15 dollars. Not a bad deal.
John T.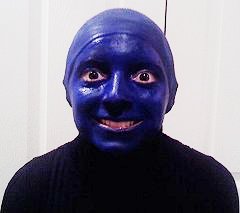 Last Halloween my son wanted to be a member of the Blue Man Group. We painted him all blue and he wore black clothing as they do in the group (which performs on the Norwegian Epic). As for myself, one year I chose NOT to go to a Halloween party and I told people I WAS there, as the Invisible Man!
Raquel G.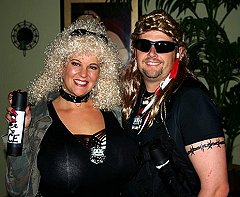 I went to a themed Halloween event in 2006 where all guests had to come dressed as a character from a TV show or movie. My husband Brian and I went as Dog the Bounty Hunter and his wife, Beth!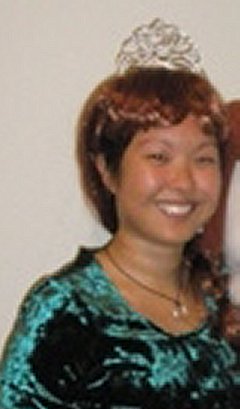 Heather W.
One of my favorite Halloween costumes was inspired after a trip to New York City where I saw Shrek live on Broadway. After the play, I knew that going as a character from the play would be the perfect Halloween costume. Ultimately, I decided to dress up as Princess Fiona and have a friend dress up as Shrek.
Yvonne M.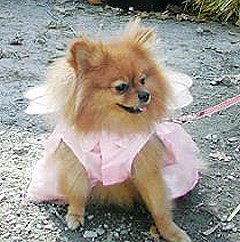 My favorite costume was when I dressed my dog up for The Animal Welfare League of Southern Maryland. They sponsor a Pet Walk every year to raise money for their shelter. My Pomeranian, Babs, didn't win cutest dog, but she was featured in the local paper and became a local celebrity.
Seth W.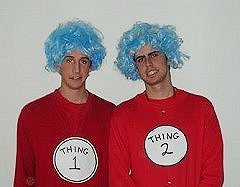 One of my favorite Halloween costumes was when my friend and I dressed up as Dr. Seuss' "Thing 1" and "Thing 2" while in college.  We found some awesome red "onesies" and just modified a Barbie wig to achieve the costume trifecta – cheap, comfortable and easily recognizable.
Julie A.
One of my favorite Halloween costumes was when my daughter Erin, who was almost 2 years old, dressed up as a ladybug. Later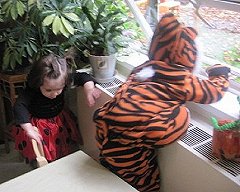 that day at daycare, she and her friend, who was dressed as a tiger, attempted to escape through the window. They thought that no one would notice a ladybug and tiger slipping out the window! Good thing I was there to capture the whole escape attempt on camera!