By Frans Hansen, President, The Cruise Web.
Having just returned from an exciting and successful weekend in Utah, winning the National Auto Sport Association's National Championship in the BMW SpecE30 class, I have been asked by our Cruise Web newsletter team to write a behind the scenes report about capturing the championship.  Here is a look at the week, key tactics and strategies that led to the title.
Plan ahead, and then have a plan B, and even a plan C!
Plan A for me was to have my local DriveGear racing team bring my sweetly tuned #87 car out to Salt Lake City for the big event. However, team owners Jon and Andrew and their wives, both decided to have babies this very month, and further, refused to ask the stork to hold delivery for another month.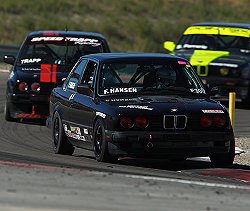 Plan B found last year's National runner-up, Steve, with a speedy backup red #92 car.  Yet, despite a signed contract, "Little Red" decided to blow a motor three weeks before the dance. Being the thoughtful and honorable man that he is, Steve helped me line up my Plan C ride – a black 1987 BMW 325is from team PFB Performance.
Be ready for adversity!
Showing up at the track with all the car's equipment and all my driving skills perfectly tuned is not the way it works. Au contraire!
The first time I ever saw my National Championship ride was last Wednesday when I showed up at Miller Motorsports Park in Utah at 6am for a practice day. When I got in, the seat was too low, too close, and the steering wheel too high.
Out on the track, I was locking up brakes and flat-spotting (i.e. ruining!) tires in every session. The tail of my rental car was wildly out of control, and the feel of the car was in so many ways completely different than what I was used to.
On top of this, I was at a race track I'd never been to before, having to learn turn types that, as a rookie driver, I had never negotiated before, being supported by a crew team and car owner that I also met for the first time that morning.
After five practice sessions on Wednesday, my times put me near the back of the pack and a whopping 3.0+ seconds per lap off the leaders' pace. Not good for a sport measured in tenths and hundredths of a second!
Take challenges head-on!
I've never seen the act of stressing out over a challenge actually solve a challenge. We knew we had two more full days before the main event, so we decided to simply tackle each challenge head on, one-at-a-time.
Wednesday afternoon and Thursday, my race crew went to work on the car to make it faster for this course, and to better suit my driving style. They:
1) checked and adjusted the ABS braking system to improve braking and prevent lock-up;
2) disconnected power steering for better feel;
3) adjusted tire pressure for better rear grip; and,
4) added rear wheel spacers to widen the rear track for more stability.
No one single adjustment was the magic bullet, but every challenge we tackled added a little more speed, until the black 325is was now up to third fastest, and within a second per lap of the pole sitter.
Don't look to 'blame', look to yourself!
With no more obvious car set-up changes available, I now had to focus even more on my driving. Otherwise, a one second per lap deficiency would translate into a 17 second loss on championship day!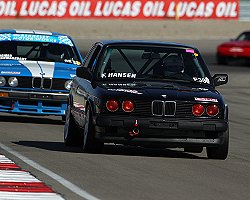 There is a great little book titled QBQ! Question Behind the Question, by John G. Miller, that every one of The Cruise Web's managers has read, and that every one of our staff is encouraged to read.  It's a book about personal accountability, and questions to ask yourself about "How" or "What" "I" can do, that focus on an action, to make a difference.  Now it was time to put my own preaching into action, and figure out how I could find more speed in this car and at this track.
1)      How could I change my braking style to minimize lock-up and/or prevent the ABS system from kicking in too soon? I decided to try less trail-braking (i.e. less braking while turning in) and more straight-line braking, especially into left-hand turns that required a big reduction in speed.
2)      How could I further minimize the car's rear sliding out from under me when under power and coming out of the turns? I decided that I would still apply throttle power as early as possible, but do so even more gradually than I was accustomed to.
3)      What could I do differently to pick up more time on the course? In reviewing the in-car GPS data acquisition reports, and in listening to my spotter, I seemed to be up to pace on the hi-speed sweeping turns, and on the turns that led to straights, but I was not hitting the "sacrifice" turns, where late braking and entry speed are a lot more important than exit speed. I would work on braking later into these turns, carrying more speed through the apex, and sacrificing some car control and stability mid-corner.
4)      What could I do differently to get better standing (i.e. drag-race style) starts? Instead of "blaming" engine torque for getting me creamed by my more experienced competitors in both Thursday and Friday qualifying race starts —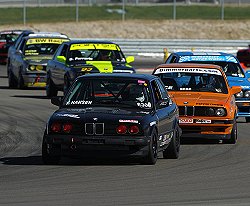 dropping up to two positions and seven car-lengths — it was time to get advice on starts and practice that advice over and over before the Championship race. In my home racing region, we had been doing rolling starts all year, so standing starts were new to me. Both my car owner and my race-experienced father told me that I should 'speed shift' on the starts — keeping the gas pedal to the metal, and then hit the clutch while making the gear lever shift! This would be hard on the transmission if done during an entire race, but was crucial for the start. It was also crucial to get the timing down, so that the motor would not over-rev, the wheels would not spin uselessly, and so that the shifter would find the next gear on the first try.
With these driver adjustments, I turned the fastest qualifying time Friday morning, and then posted the fasted qualifying race time Friday afternoon. I would now start on pole position for the Championship race on Saturday, and be ready with a better 'start!'
Stay focused and present!
If missing your shift point and losing seven car lengths, or missing your turn in point and getting passed by your competitor is not enough to keep you focused, then maybe going off at turn one near 120 miles per hour will catch your attention.
Obviously, racing fast commands your attention. Still micro-lapses in concentration happen all the time. I did miss shift points, and I did miss turn-in points, costing me in the qualifying races. For the championship race there could be no lapses.
Another, less obvious distraction, is focusing on the desired outcome of the race (victory of course), rather than on the moment at hand.
On championship race day, I had my personal best start ever. From pole, I held off the three-time defending national champion to my right, and kept my focus, even as Gary from Northern California snuck past me on the left with what would have to be one of the fastest starts possible.
When I took the lead and started gapping the field after lap four, I knew that it would be crucial to keep my concentration for the next 12 laps. Once you have a nice lead, it's easy to start wishing for the checkered flag to come, or thinking about how high the champagne will spray, but one mistake is all it takes to go off-track or break your equipment, and lose the race.
Brake… down-shift… turn in… apply throttle… hit apex…up-shift… track out… shift again… hustle over for the next turn. Breathe. Every turn. Every shift. Every piece of road needs your full respect.
Be patient!
On lap two, I set Gary up nicely in Black Rock Hairpin, and then made my move to the inside on Right Hook. But Gary showed he could take a punch, and blocked down hard and fast. I had to get on the brakes quick, as my left front touched his right rear quarter.  I could have forced the issue and held my ground, but unlike NASCAR, I would get disqualified under NASA rules if I spun out a competitor, or gained a position and damaged their rear quarter panel.
Worse, my loss of momentum in Right Hook, cost me second place to Chris, the defending and three-time National Champion, going into Witchcraft. But this was only the third lap of a long race. My opportunity would come.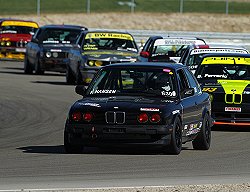 It came earlier than expected when good exit speed on to the main straight and a strong motor pushed me back into second to start lap four. But Gary is a hard-nosed racer and wasn't giving an inch, even when he was on the outside of me, going flat out in the marble debris, two-abreast through Witchcraft on lap four, and then taking me side by side through the bumpy, downhill, triple ess turn Attitudes. Forced high up onto the right-hand curb of Second Attitude, I had to relent again.
My patience paid off though, as we caught a 944 Porsche back-marker that same lap in Club House Corner, as Gary guessed left side and wrong, and I guessed right side and right, to get by both, take the lead, and then pull away for the eventual victory.
Maximize performance in every area!
Reflecting on the final race, I realize that had my team and I been weak in any one area, we would likely have not won the championship. Had the brakes been locking, the car's tail been uncontrollable, the motor weak, my speed into "sacrifice corners" too slow, or had my focus been off, the win would have escaped us.  Our success came because we looked at every area of our performance, and maximized every potential.  Maybe we didn't reach a '10' in every area, but a '5' or '6' in any one area would have cost us the race.
Make sure every team member is aiming for the same goal!
My car owner, Tim, and my crew chief, Steve, were as meticulous and calculating in their support and preparation of the car, as I was in my analysis of the track and my drive. Had any one of us not been aiming to be the best we could be, we would not have won. My driving would not have been strong enough to overcome a weak car, and a strong car would not have been enough to overcome a poor drive.
Lessons on the track & lessons in life & work.
Looking back on the week, I'm compelled to compare the unforgiving lessons at the race track, to those of life, and also to those of running a business like The Cruise Web.
Every day, The Cruise Web managers and staff work tirelessly in all the above areas to maximize their performance! They plan, they expect adversity, face challenges head-on, take responsibility, and focus on their jobs. Our company leaders work to keep everyone focused, while also being patient when necessary, and realize that if The Cruise Web is weak in any one area, that our customers will go elsewhere.
Everyone at The Cruise Web is focused on being the best at what we do, and providing you, our customer, with the best value, service, and experience possible. When it comes to cruise vacations, we want to be your #1!
Check out the in-car video of Frans taking first place at the NASA National Championships:

Plus, please enjoy the following media highlights from the NASA National Championships. Skip ahead to the 47:50 mark to jump straight to the coverage of Frans' race.


Frans G. Hansen
President
The Cruise Web, Inc.