It's Raining Babies!

The Baby Stork has been busy delivering two beautiful new additions to the Cruise Web family. In the past month both Manager Chris Roth and Senior Sales Consultant Corinna Crockett welcomed healthy baby boys one day apart!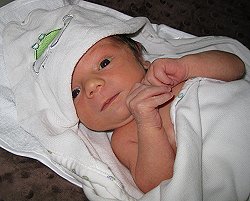 Jacob Patrick Roth was the first new addition to The Cruise Web family, born on August 25, 2010, weighing 6 pounds 5 ounces. Chris and his wife were pleased to welcome another healthy, beautiful baby boy to their family. Older brother Ethan is enjoying his time being "the big brother" and  is looking forward to playing with Jacob when he gets older!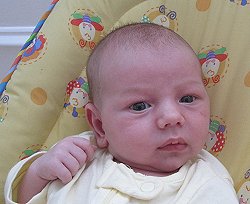 Samuel (Sammy) Jeffery Crockett, the second beautiful addition to The Cruise Web family, was born August 26, 2010, weighing 8 pounds 2 ounces. Big sister, Melaina has welcomed Sammy with open arms and gentle kisses. Corinna and her husband couldn't be happier with the new addition to their family – a happy, healthy, beautiful baby boy.
Both Jacob and Sammy look forward to their first cruise, once they are 6 months old (the minimum age requirement for most cruise lines!)