From a Rookie to a Champion

Our President, Frans Hansen, has had plenty of success in life, however he has recently fulfilled his 2010 goal to be a champion on the racetrack!  Just this year, Frans started to participate in NASA (National Auto Sport Association) racing.  For the uninitiated, NASA is an organization dedicated to organizing and promoting racing activities for both the aspiring or accomplished racers. Most people who wind up in the big championship races have been at this level of competition for years, but not Frans. He made his way to the top in less than nine months.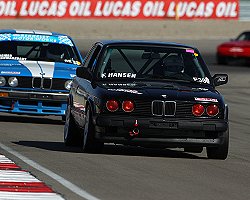 Frans comes from a proud family history of racing.  His father, Jerry Hansen, is the winningest driver (27 time National Champion) in the history of the Sports Car Club of America.  His sister, Courtney Hansen, is an auto industry celebrity, hosting popular auto-enthusiast television shows like Overhaulin' and PowerBlock.  His brother Jens Scott, a race instructor and part-owner of Summit Point Motorsports Park and Summit Point Kart in West Virginia, was the one who got Frans hooked on kart racing last year, and helped him get into car racing for the first time this year. With racing blood like that, nobody would have been surprised if Frans placed in the top ten, but we had no idea what Frans was capable of.
In preparation for his big race and to get the inside scoop on Frans' racing, we interviewed Frans' race coach and members of his family, as well as some of his racing colleagues.   His father, "The Great Jerry Hansen," told us that, as long as Frans had a familiar car and a good support team, he believed Frans could win. Courtney Hansen, Frans' sister, recalled Frans zooming through the countryside on his mini-bike. It's hard to imagine our President in his Hugo Boss suit today, riding a mini-dirt bike as a kid!  She also mentioned that Frans is carrying the Hansen gene for winning and with a little experience, he too could be a winner.  Frans' coach, Todd Reid, of ReidSpeed Pro Driver Coaching, commented that Frans "is patient and waits for the race to come to him. He is content to sit in third place, well within striking distance, and pounces when the opportunity presents itself!" Jon Allen and Andrew Zimmerman, team owners of DriveGear, who Frans races with in the mid-Atlantic region of NASA, believed that with Frans' "natural gift for driving a race car" and "very close attention to every detail," he would be in the top three at Nationals this year. Everybody was rooting for Frans, and hoped he would do well enough to have a good time and gain some racing experience.  Well, I guess there's no experience like winning!
The pre-race drama began as Frans discovered he would not be able to bring his usual car to the race. A suitable replacement was eventually procured and, although Frans appreciated finally having a car to race, he was faced with an unfamiliar car on an unfamiliar track, something that could make Dale Earnhardt lose his cool.  Despite these setbacks, Frans suited up, buckled up and made his way around the track.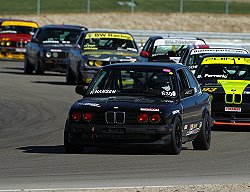 On the first day, during his warm-up runs, Frans discovered that his car was very different than what he was used to.  Frans said: "Challenging day for me. New track, new car, new team. I had trouble controlling the tail of the car. Not comfortable with brakes and locking up and flat spotting tires all over the place (ie. bad!). Not progressing well at finding fast line around track. Slow practice times – back half of pack. Good news is that the car has good horsepower and we are making some handling and braking changes." However with a few car and driving adjustments, Frans began to feel like he could "find even more speed in car."
On race day, Frans started from pole, but fell back into the second position off the line.  Making a move for the lead, Frans lost momentum and fell back to third on lap three. But on lap four, Frans passed both cars ahead of him and started to pull away.  Over the next twelve laps, Frans made the gap bigger and bigger.  In the final lap, The Cruise Web President's lead was too much to overcome, making Frans Hansen the 2010 Champion of the NASA National Championship, proudly following in his father's footsteps!
We couldn't be more proud of Frans and his championship. However, this begs the question, "what's next Frans?"  We hear cruise ship racing is getting popular….
Check out the in-car video of Frans taking first place at the NASA National Championships:

Plus, please enjoy the following media highlights from the NASA National Championships. Skip ahead to the 47:50 mark to jump straight to the coverage of Frans' race.


And don't forget to check out this month's President's Message for Frans' in-depth account of the championship race.