Carnival's Cruise Ship Exhibit Sets Sail At Miami Children's Museum
Courtesy of  Carnival Cruise Lines.
In a nod to maritime tradition, Miami Children's Museum and Carnival Cruise Lines recently uncorked a confetti-filled bottle to launch a redesigned cruise ship–shaped exhibit where kids can sail on a sea of discovery and learn the secrets behind one of South Florida's leading industries.
The two-level 1,850-square-foot exhibit – the country's only cruise-themed children's museum attraction – has been completely renovated and now offers a host of new hands-on, interactive activities that promise oceans of fun while educating kids about seagoing travel and maritime careers.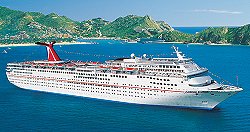 New features on the exhibit's first level include Puppet Ship Theater, where kids can learn about different maritime careers while putting on a puppet show with a cast of miniature captains, engineers, chefs and other shipboard personnel.  Young visitors also have their moment in the spotlight dressing up and performing as Carnival entertainers with dazzling, sequin-festooned costumes.
A new "What You Can Do On A Cruise" activity includes spinning and matching games that teach kids about the variety of fun on-board happenings as well as sights they might see along the way.  Positioned in the "bow" of the ship-shaped exhibit is a cozy seating area where kids and parents can read a book or enjoy a quiet activity.   Also located throughout the first level are hands-on tabletop activities and games, interactive wall bubbles and "fun facts" about the Carnival vacation experience and what shipboard life is like.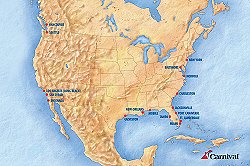 The exhibit's second level, which replicates the equipment and technology found on a cruise ship bridge, is just as engaging.  Here, children can plot a course in the Caribbean with authentic maps and charts, and listen to actual recordings of officers, harbor pilots and quartermasters as they bring a vessel into port.
Kids can also see "how low can they go" with a fun limbo exercise, create their own Calypso music with bongos and steel drums that are typically associated with a "fun in the sun" Caribbean cruise or learn about shipbuilding through fun, interactive puzzles. Appropriately, the second level bridge overlooks an adjacent exhibit which replicates the Port of Miami.
Carnival partnered with Atlanta-based Purpose Studios to completely renovate, redesign and re-engineer the exhibit to offer a more nautical feel with teak-like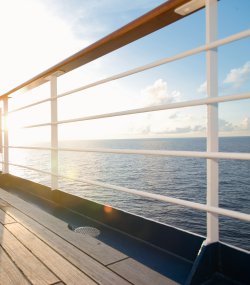 flooring, ship railings, portholes and other design elements.  The renovation also includes dramatic lighting effects and a colorful mural that re-creates the vantage point of a cruise ship on the ocean, depicting a sea of aqua-blue waters and a Carnival ship on the horizon.
Carnival's exhibit debuted in conjunction with the Miami Children's Museum's Watson Island grand opening in 2003 and over the past seven years thousands of kids have learned about cruising and maritime careers interacting with the ship-shaped attraction.
"This exhibit embodies the museum's mission of making learning fun by allowing kids to immerse themselves in the world of cruising and discover the important role the maritime industry plays here in South Florida," said Jim Berra, Carnival's chief marketing officer. "And on a personal note, the Miami Children's Museum is one of my family's favorite places to beat the heat during the summer."
"From the beginning, Carnival has been a valuable partner with the Museum, providing a quality exhibit where children and families can play, learn, imagine and create," said Deborah Spiegelman, the museum's executive director.  "These fantastic new enhancements to the exhibit continue to provide a first class experience for everyone.  I don't know of any other museum that can boast about having its own cruise ship inside."