Behind-the-Scenes Cruising
A compilation from The Cruise Web employees.

This month's spotlight takes you behind closed doors to provide a glimpse of the mysterious behind-the-scenes operations of cruise ships. Several members of our staff have experienced areas of cruise ships that most passengers never see, including steering a ship and partying with the crew. Continue below to find out which behind-the-scenes operations were most interesting to our employees.
Adam W. – Senior Cruise Consultant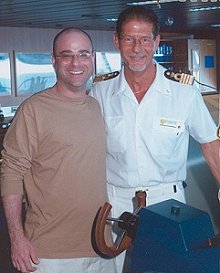 In April 2009, I was invited to participate in a "Behind The Fun" VIP travel agent tour of the ship during the inaugural Carnival Pride sailing from Baltimore, Maryland. During a 2-hour tour on the last sea day of a 6-night Bahamas cruise, I visited many secured areas around the ship not seen by passengers. The tour took us through the engine room, main galley, photo lab, crew and staff quarters, and theatre. The highlight for me was meeting Captain Alessandro Galatto up on the bridge while the ship was sailing.

Tina C. – Senior Cruise Consultant
As a courtyard villa guest, I was able to get a private tour of the bridge. The Norwegian Gem is a very modern ship, and almost every instrument, procedure, and deck role has been automated, streamlined, and digitized.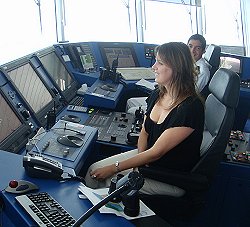 The deck officers, trained in Maritime Academies and their home countries' navies, often spoke up about how much lower their workload is compared to every other ship they have sailed. For instance, instead of plotting a course on traditional paper maps, LCD moving maps chart their position in real-time and show their projected course. They steer the ship with a trackball and keyboard, yet there is still a traditional helm used mainly for piloting the ship in tight quarters. There are an array of radar sensors, video cameras, and computerized warning systems to alert the crew to any possible danger. According to the ship's Captain Mikael Hilden, the Norwegian Gem is a "complete joy" to sail; "much better than retirement."
Craig J. – Client Services
While docked at one of the ports on our Western Caribbean itinerary, my friend and I decided to forego the staple Senior Frogs and opted for more of a "local" scene. To our surprise, it was filled with mostly crew staff from a range of departments — entertainment, the spa and fitness, and front desk. We were able to meet them and learn about who they are outside their ship role, and learned a bit about their life onboard. The rest of our cruise experience was better-off because of that night, because our new staff friends remembered our names and would greet us as we passed, would join us for dinner in the specialty dining, and even invited us to an all-staff party on the top deck of the sports complex that was reminiscent of a high school homecoming dance. It was a great time and added a new perspective for our cruise experience.
Raquel G. – Senior Cruise Consultant
On a recent "working" cruise attending a Seminar at Sea (if one can call seven nights cruising the Caribbean work!), myself and a group of other travel professionals were lucky enough to get a private tour of the main theater, stage and backstage where the million-dollar production shows take place on Royal Caribbean's Liberty of the Seas. By chance, one of my colleagues ran into an old school friend when we boarded and he just happened to be one of the stars of the shows! Drake DeLucca generously offered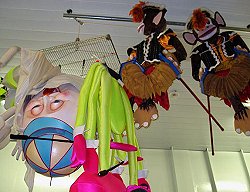 to show us the nitty-gritty behind the scenes. We toured the lighting and sound booth, with sophisticated electronics worthy of any venue on Broadway. We also saw the entire backstage area, including props, ropes and harnesses for the "In The Air" show where the actors are flying 20 feet over the audiences' heads, and the trapdoor areas under the stage where the actors just 'disappear' during a number. There were photos in the makeup area showing the proper application for each of the characters, and racks of costumes labeled for each actor so that they could run down for their quick changes during a show. It was a fascinating, eye-opening view into a world we knew nothing about!
Andy G. – Senior Cruise Consultant
On a Mediterranean cruise last summer I was thrilled to tour the kitchen area on the beautiful Celebrity Solstice. As a former owner/operator of a restaurant, I was excited to see just how they feed thousands of passengers each day. I was surprised that my guide, the assistant head chef, had come from a famous Chicago eatery. This was a guy who could host his own show on The Food Network! So much for talented people not wanting to work on cruise ships.
My first impression was of the cleanliness. Spotless would be a better word, perhaps even gleaming. I was amazed at the specialization of the kitchen workers. On the tour I was introduced to some who did nothing for eight hours a day but chop fruit or vegetables. A couple guys rolled out breadsticks all day long–that was their job, rolling breadsticks! On this ship, they make all their bread as well as ice cream and many other items that most of us buy pre-made. No wonder the food was so good on this cruise.
The kitchen was huge, so big that though I was there for a half an hour, I only had a taste of it. Pardon the pun, I meant to say I only saw part of it. Cruise ships are amazing places. Generally we can only guess at what takes place behind the scenes. Having the curtain lifted for this tour, I certainly appreciate them even more.
Ellicia A. – Accounting Coordinator
My favorite behind-the-scenes experience was a bridge tour I took aboard Explorer of the Seas. The thing that sticks out the most was how big the room was. It extended from the port to the starboard side of the ship. There was a lot of space by the windows. It looked like they could set up dining tables or maybe they use it as a dance floor when the ship is on autopilot. We had a chance to check out several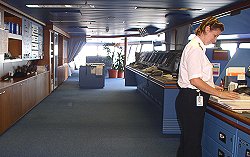 high-tech gadgets and gizmos while the captain explained the importance of each. The stabilizers, for instance, help the ship from rocking side to side which in turn cuts the chances of seasickness.


The Cruise Web, Inc.
reply@cruiseweb.com
1-800-377-9383