Senior Cruise Consultant Jacques Botty recently won a cruise with Royal Caribbean onboard the Enchantment of the Seas destined for King's Wharf, Bermuda. He departed on June 26, 2010 out of Baltimore and returned with only wonderful things to say about his time on board the Enchantment.
Enchantment of the Seas is a smaller ship with a more intimate feeling, where you can build friendships with the other passengers. In fact, Jacques was a finalist in the belly flop contest, and quickly became a local celebrity on board with other passengers stopping and praising him on his belly flop!
The Enchantment is a wonderful family environment with many different activities for all ages; ranging from the kids programs to dance clubs! Jacques described the atmosphere of the ship as being quiet during the day and lively at night with tons of dancing and relaxing. The interior of the ship was beautifully embellished with artwork and hand blown glass, creating an elegant feeling.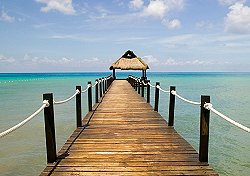 Upon arrival to King's Wharf, Jacques disembarked to experience the local flare and was nothing less then impressed! The locals were very helpful in guiding him to beautiful beach spots and nightlife right on the beach! He also took part in different shore excursions such as jet skiing, deep sea fishing and snorkeling. Jacques even had time to participate in a fun locals' game of chasing roosters! Jacques is grateful to Royal Caribbean for the opportunity to get out of the office on an enjoyable and relaxing vacation.