Celebrity Cruises Offers New Pre-Cruise Spa, Salon and Fitness Appointments
Courtesy of Celebrity Cruises.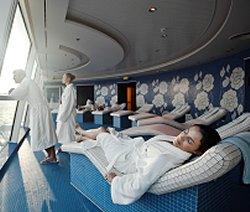 Celebrity Cruises is adding spa, salon and personal fitness appointments to its ever-growing line-up of onboard experiences available for pre-cruise booking. In today's fast-paced world, vacationers are looking to make the most of their time away from daily pressures, and Celebrity aims for this latest offering to present cruise guests with yet another way to make the most of their time onboard.
"One of the most valued elements of a Celebrity Cruises vacation is the outstanding service that we offer to our guests," said Lisa Lutoff-Perlo, Senior Vice President, Hotel Operations. "Even the process of planning for specific experiences such as spa and salon appointments reflects our commitment to service and our 'Designed for you' brand platform. Our guests tell us that the more they can arrange in advance, the less they have to think about once they step aboard our award-winning ships. We've designed our more than 100 AquaSpa, salon and fitness offerings to help our guests enjoy relaxation and renewal, from men's barber services to hot stone massages, from the Tri-Enzyme Resurfacing Facial to Brazilian Blowout Keratin treatments for hair, and more."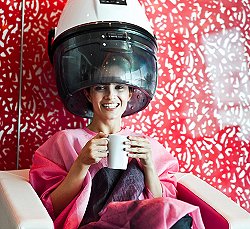 Celebrity's pre-cruise spa, salon and personal fitness appointment booking option joins a series of experiences available for guests to book in advance of their cruise, including beverage packages, shore excursions, specialty dining reservations, and complimentary "Celebrity Select Dining" main dining room preferences.
With the new pre-cruise spa, salon and personal fitness booking option, Celebrity aims to give its guests the peace of mind associated with knowing that their spa, salon, and personal fitness appointment times are secured. The option to pre-book these appointments can help guests avoid disappointment after boarding by discovering that desired times are already taken by other guests. Among those who tend to seek specific appointment times are guests who regularly undergo acupuncture or treatments of elective injectables such as Botox, Restylane, Perlane and Dysport. With Celebrity's newest offering, guests can book these and other appointments in advance of their cruise, no longer having to worry about finding available times after they board the ship.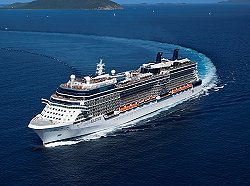 By mid-November, guests will be able to book spa, salon and personal fitness appointments prior to their cruise on six of the nine Celebrity ships that will offer this option. The first ship to offer this option was Celebrity Solstice, the flagship of the premium cruise line's stylish new Solstice Class ships. Guests sailing on Celebrity Solstice, Celebrity Eclipse and Celebrity Equinox can currently book and pay for spa, salon and personal fitness appointments up to four days prior to their sailing date. The rollout will continue through 2011, when Celebrity Cruises will launch its fourth Solstice Class vessel, Celebrity Silhouette.