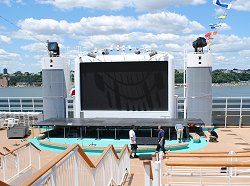 The Cruise Web recently had the opportunity to send several employees onboard the Norwegian Epic to take part in the ship's inaugural activities. We jumped on the opportunity as inaugural sailings are an exciting way for our employees to gain valuable first-hand experience with a new ship — Experience that we then have the opportunity to pass on to clients.
The first inaugural sailing took place on July 2 and left out of New York City. Comedian Jeff Garlin kicked off the commencement ceremony by introducing the ship and guiding attendees on a virtual tour of the ship's various entertainment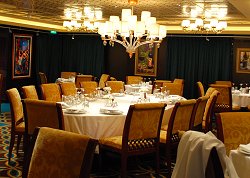 options, including Blue Man Group, Legends in Concert and The Second City improv group. Kevin Sheehan, CEO of Norwegian Cruise Line, took the stage next and welcomed guests with a warming commencement speech. Mr. Sheehan then introduced country music star Reba McEntire as Norwegian Epic's godmother. Ms. McEntire shared her enjoyable experiences with the cruise line before offering the traditional blessing of the ship. Guests concluded the ship's commencement ceremony by raising their glasses and toasting to a successful inaugural.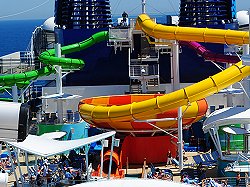 The remaining time was ours to explore the brand new ship and there truly was something for everyone. Interior highlights included the Svedka Ice Bar, Blue Man Group and Bliss Ultra Lounge.  Guests looking for rest and relaxation took advantage of the onboard spa while soccer fans watched the World Cup on the ship's massive two-story monitor. Anyone looking for fun in the sun had several options, including the twisting water slides, rock climbing wall and bungee trampoline. After two days at sea the ship returned to the Manhattan Cruise Terminal and guests disembarked, exhausted, but eager to talk about the trip.
The Epic then sailed for Florida to continue the inaugural celebration in Miami on July 8th. The fun, "freestyle" atmosphere only grew stronger as the ship left the coast of Florida well in the distance. Guests were once again free to explore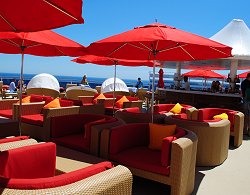 the ship's many dining and entertainment options. Like all good things, the inaugural sailing finally came to an end as clear skies and a warm sun greeted the ship's return to port on July 10th. The Epic has since begun sailing 7-day cruises to the Caribbean out of Miami.
All employees fortunate enough to experience the Epic have now returned to the office, but The Cruise Web is still buzzing with wonderful stories about the inaugural. The Cruise Web would like to thank Norwegian Cruise Line for the opportunity to experience the Epic and we wish the ship a bright and busy future.

NOTE: The Cruise Web, Inc. received complimentary inaugural staterooms from Norwegian Cruise Line, which in turn were offered to the employees listed above. The views and opinions expressed herein are those of the contributors, and do not necessarily reflect the position of The Cruise Web or Norwegian Cruise Line.