Courtesy of Norwegian Cruise Line.
In another first, Norwegian Cruise Line has announced an exclusive partnership with SVEDKA Vodka and Inniskillin ice wine to be introduced on board Norwegian Epic, its largest and most innovative Freestyle Cruising ship ever. As part of the partnership, this unique frozen bar will be called the SVEDKA Ice Bar and will feature specialty SVEDKA and Inniskillin ice wine drinks.
Inspired by the original ice bars and ice hotels in Scandinavia, the cruise industry's first true ice bar is the ultimate chill. This frozen chamber is set in changing hues of blue, green and purple LED lighting that simulates the Northern Lights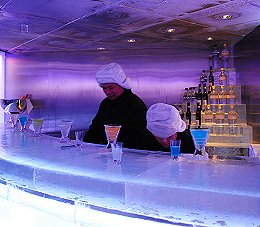 and creates a distinctive arctic atmosphere. The SVEDKA Ice Bar features a bar, walls, tables, stools, glasses and life-size sculptures all made from ice. Guests are given hooded coats and gloves to keep them warm, since the room's temperature does not rise above 17 degrees Fahrenheit.
The SVEDKA Ice Bar accommodates 25 people and can be reserved from 5:30 p.m.-10:30 p.m. nightly. There are six specialty drinks made from SVEDKA vodka and Inniskillin ice wine including:
Polaris: SVEDKA Citron, Inniskillin ice wine, and lemon/lime soda;
Cobalt Blue: Inniskillin ice wine, SVEDKA vodka and Blue Curacao;
Nordic Apple Juice: SVEDKA vodka, Sour Apple Schnapps, Midori and a splash of fresh sour;
Caribbean Dreams: SVEDKA Citron, Triple Sec and lemon juice;
Sunburst Yellow: SVEDKA vodka, peach liquor and orange juice;
Northern Lights: SVEDKA Citron, Cointreau and Blue Curacao.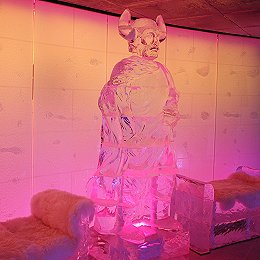 There are also two non-alcoholic drinks; the Strawberry Eskimo Kiss made of strawberry puree, pineapple juice and lemon juice and the Creamsickle, with orange juice, vanilla ice cream and milk – in case children want to partake in the chilling fun. All drinks are served in specially-created glasses made entirely of ice.
Following her inaugural activities, Norwegian Epic will sail alternating seven-day Eastern and Western Caribbean itineraries from Miami from July 10 through April 30, 2011. Ports of call on the Eastern Caribbean itinerary include Philipsburg, St. Maarten; St. Thomas, US Virgin Islands; and Nassau, Bahamas. The Western Caribbean cruises visit Costa Maya, Mexico; Roatán, Bay Islands, Honduras; and Cozumel, Mexico. The 2011 cruise season from May-October will have Norwegian Epic sailing a series of seven-day Western Mediterranean cruises from Barcelona. When she returns to Miami on November 5, 2011, she will sail a series of seven-day Eastern Caribbean cruises through April 7, 2012.