Our Sweetest Suite Experiences

Sometimes the best word to describe a suite is, well, sweet! Cruises vary widely depending on the type of cabin booked, and there's no denying that the suite is in a class of its own. From the moment passengers step into a suite, it's clear that their vacation is going to be extraordinary. The following suite experiences represent some of the sweetest as remembered by The Cruise Web's employees:
Raquel Grinnell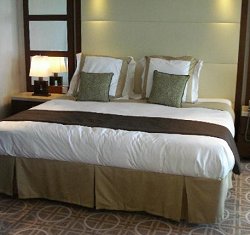 The Penthouse Suite on the Celebrity Solstice has the most amazing bathroom I've ever seen at sea… There's a flat-screen TV in the bathtub area so you can bubble-bath and watch a movie at the same time!!! As a European, I also loved seeing a bidet. The master closet was also amazing; more beautiful and organized than mine at home! I really liked the decor, as well — very sleek and modern with quiet golds and browns, dark wood finish on all the furniture and the kicker of course is the big hot tub and bar area for entertaining out on the balcony.
Karolina Shenton
Last year, my husband and I sailed with Regent Seven Seas through the Baltic.  I'm not sure what it is about having a butler bring you anything you wish on your wrap around balcony that makes you feel like royalty, but it sure does.   Spending my days touring the opulence of the Tsar's palaces, priceless works of art in the Hermitage, and visiting Cathedrals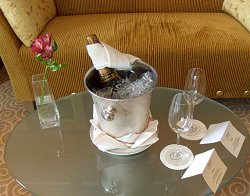 would have been more than enough to make me feel like a princess, but coming back to chilled Champagne, handmade appetizers and fresh flowers only added to my fantasy of being one of the Tsarinas.   My suite at sea was truly fit for a queen, and it fit me perfectly!
Arthur Balin
My wife and I have sailed in quite a few suites on different cruise lines, but our favorite has to be our suite on Regent Seven Seas Voyager. It was most spacious and comfortable with a large marble walled bathroom and a large sitting area. The clincher, however, was the location: aft of the ship with oversized balcony and full panoramic view. I can still vividly remember watching the sun go down over the rocky cliffs of Corsica and sipping champagne served by our butler. Suite life indeed!
Heather Wasson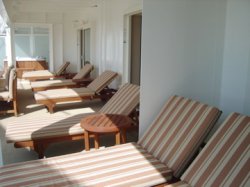 Royal Caribbean's Presidential suites hold up to 14 of your closest family and friends.  The balcony has an outside bar, room for 8 lounge chairs and a whirlpool!  It's a great value if you want to be all in one area.
Rosalind Smith
My favorite feature of any suite is the bath. I have soaked in several baths at sea and while some upgrade to a suite, the privileged few select their suite. They type of suite you select is merely based upon your space requirements for comfort. Missing from the Seabourn Odyssey is the "cabin" or "stateroom." Each suite is elegantly appointed. My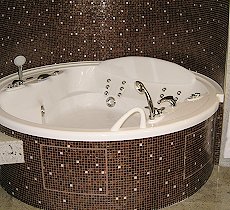 suite included a granite bath, luxurious linens and specialty toiletries. In fact, I kept the label from the bath soap, which I now use at home today! This attention to detail makes it difficult to distinguish between different suites with the exception of size, location on the ship and of course the budget!